Apple WWDC22 took place from June 6th to 10th, 2022. The new operating systems were presented in the keynote that opened the developer week iOS 16, iPadOS 16, watchOS 9 and macOS Ventura as well as the new Apple Silicon called M2. In addition to the chip, the first devices equipped with it were presented with a MacBook Air and a MacBook Pro. The overviews and diagrams presented once again highlighted the increase in performance and efficiency - not only in comparison to the M1 from 2020, but also to current laptops from other manufacturers for the Windows system. Now we are patiently waiting for the rumors and the date for Apple WWDC23 in June 2023.
Note: This article will always be updated before and after new WWDC events.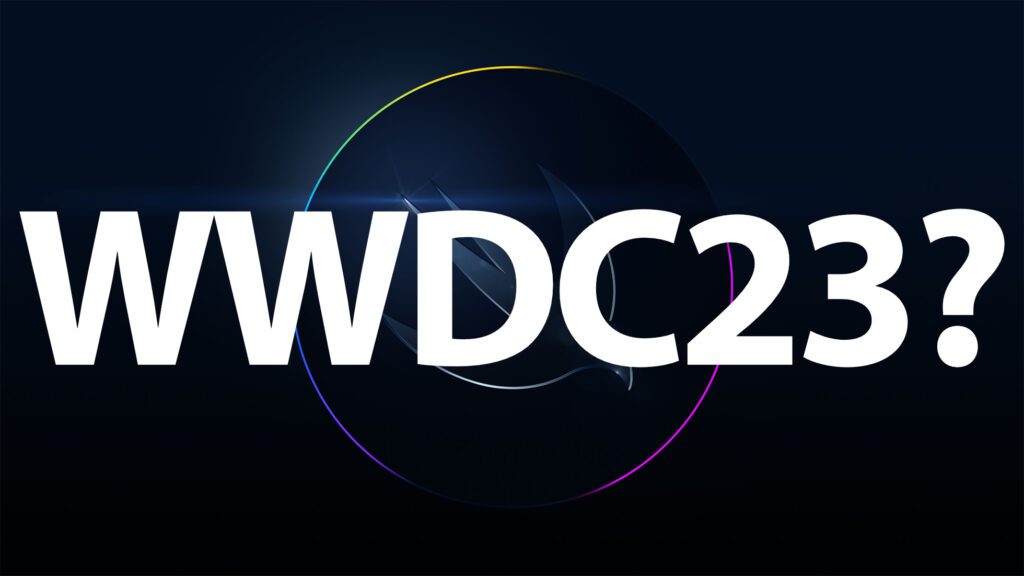 Apple WWDC 2023: When is the WWDC23 date?
The official WWDC23 date will probably not be announced by Apple until April or May 2023. Until then, it remains exciting whether the Covid-19 situation in the fourth year of the pandemic will allow a complete on-site event to be held or whether it will be a hybrid again. Surely Apple will consider an online strategy as the last three WWDCs have shown that being online allows many more developers to participate. Not everyone has the opportunity to travel to California, rent lodging, and spend time at Apple Park. So let's see what the WWDC23 date will bring...
Apple WWDC 2022 – Everything about WWDC22 is here
Update end of June 2022: Of course I watched the broadcast of the pre-recorded WWDC22 keynote live and then gave you a summary in German. In addition, I have taken up individual topics such as the M2 chip, the compatibility of older Apple devices with the new operating systems and a few others in additional posts. If you want to find out more about this, just take a look at this list of links:
Update end
At the moment, only the time period for this year's Apple World Wide Developers Conference has been set. But as soon as the keynote has taken place and the other events have been held, I will update this paragraph with the new information and contributions about iOS 16, iPadOS 16, macOS 13, watchOS 9, tvOS, Siri, HomeKit and Co. Also, there will probably be some news about the Swift programming language, it looks like. Until then, feel free to scroll down and read through the summaries and detailed articles on the content of the last few years. Have fun!
Apple WWDC 2021
Update June 14, 2021: The Apple WWDC21 is over, but the content is still interesting and informative. If you want to see all the lectures, workshops, sessions and the like, then I recommend you Developer app. In it you will also find all the necessary developer tools that you need if you do it yourself Apps want to program. I have summarized more general information for you here:
If you want to go into a little more detail, check out the recap videos Apple posted on its YouTube channel. One day of the WWDC21 is summarized in it. If you're reading this post in a few months and then don't want to dig through all of the videos you've uploaded, just click here: Apple WWDC21 Recap - That was Developer Week. In the following I have included the keynote from the first day so that you can watch it directly.
Update end
Apple announced the official WWDC 30 date on March 2021th: the developer conference will be held digitally from June 7th to June 11th, 2021. We can only speculate whether there will be new hardware on display at the WWDC21 keynote. However, it is certain that there will be new information about the Apple operating systems. So we can look forward to news about iOS, iPadOS, macOS, watchOS and tvOS.
Accordingly, this likely content for DubDub 2021 can be recorded:
IOS 15 news for iPhone and iPod Touch
According to news on iPadOS 15 for the iPad

A preview of macOS 12 for Mac, iMac, and MacBook
Innovations in watchOS 8 for the Apple Watch
Changes in tvOS 15 for the Apple TV
More information here: Apple WWDC21 - Developer Conference will take place June 7-11
Apple WWDC 2020
Update 24. June 2020: Apple WWDC 2020 is in full swing, ensuring that developers around the world get ahead with programming their apps and systems. For those who want to optimize their Mac apps for the next generation of hardware, there is even a developer kit in the housing of a Mac mini. But there was also important information for users of Apple devices on Monday at the kick-off keynote. I have documented the Apple WWDC20 keynote for you here in the blog by means of the following posts:
(End of update)
The date for the Apple WWDC 2020 has therefore been set. If you want to follow the keynote and other events / information, there are various ways and means. According to Apple, the best option is the Apple Developer App, which you in the App Store for free for iPhone, iPad, Mac and Apple TV. She has special stickers for iMessage. If you don't want to install an app or if you want to watch the kick-off event on a Windows PC, a Linux machine or an Android device, then you can watch the live broadcast via YouTube - just like last year. You can find them with this link.
You can find more information currently in the
Apple Newsroom
as well as on the
Developer page
the apple company.
Apple WWDC 2019
Update on WWDC 2019: Here you can find the summary of the keynote
(End of update)
The Apple WWDC 2019 in San Jose at the beginning of June will primarily focus on the new versions of the apple company's four operating systems. In particular, these will be:
macOS 10.15
iOS 13
Watch 6
TvOS 13
It is also possible that new hardware will be presented during the keynote on June 3, 2019. A new Mac Pro or iMac Pro is just as conceivable as a 16-inch MacBook Pro with a 4K display. Some sources are also predicting a new Apple display with 8K resolution. Due to some registrations of mobile devices with corresponding model numbers, one hears and reads again and again that new iPad models, a new iPad mini and a new iPod Touch could be presented.
I have summarized all the detailed rumors and leaks for you in this post: Apple WWDC 2019 - date, ticket price and what to expect.
Apple WWDC 2018
Update 23.02.2019: You can find a summary of the keynote with this link. You will receive further content, lectures and findings from the congress with the means that I have in this and also in this post have described. Here are the most important contents of the Apple WWDC 2018 as individual messages:
(End of update)
The date for the Apple WWDC18 has now been officially confirmed. Like Apple, among other things, on its own Event page announced, this year's World Wide Developers Conference will take place from June 4th to 8th, 2018 at the McEnery Convention Center in San Jose, California:
San Jose, CA, June 4-8
When technology connects with creativity, incredible ideas come to life. This summer, we invite thousands of talented minds from around the world to join us and turn their ideas into reality.
More than 100 sessions with a focus on technology and design will be presented by Apple engineers at WWDC18. This is to help developers from all over the world to create the next generation of apps that use the latest Apple technology. In addition to the workshops, keynotes and presentations, there will also be hands-on labs with Apple employees as well as so-called consultations, i.e. individual appointments at which special topics can be discussed.
The get-togethers, which revolve around a topic and represent a kind of group discussion, run completely differently. There will also be guest appearances by other company representatives. In addition, there is the event "The Bash" for a rather casual exchange, for music, food and drinks. If you want to take part in the Apple WWDC18, you have to register by March 22nd and hope for the chance given to buy a ticket. Apple puts it this way:
The opportunity to buy tickets to WWDC18 is offered by random selection. Registration is open until Thursday, March 22, 2018 at 10:00 am PDT.
In short, it is about "the same procedure as every year", which we were able to see confirmed in 2017. This pattern can also be seen in the WWDC events from 2016, 2015, etc. The WWDC 2018 date could reveal new areas and possibilities of Augmented Reality (AR) and Virtual Reality (VR) with the corresponding keynote and the interpretation on developers.
Contents of WWDC 2018 - Here again an overview of the possible topics of this year's World Wide Developers Conference from iPhone with iOS and Mac with macOS to TV with tvOS, the HomePod and cross-platform apps:
Augmented Reality / AR and Virtual Reality / VR
Rumors treat the iPhone SE 2 as Apple's June update of the cellular sector
The iOS 12 or iOS 13 operating system would be suitable for this
The Mac mini, which was announced in 2013, could also be presented
There may be announcements of new content on the Apple TV
The HomePod could get a big update or two
The Marzipan project could be dealt with - perhaps with an official launch date for the first iOS-macOS app versions
An update for the mobile computers in the form of the MacBook Pro 2018 is not impossible
There could also be an iMac 2018, in different versions
There may also be details about macOS 10.14 or macOS 11
Apple WWDC 2017
The date for the Apple WWDC 2017 has been set (update: is long over). From the Apple Worldwide Developers Conferences of the last few years, especially 2016, 2015, etc., the June pattern can also be continued this year. When there is more news about Apple WWDC 2018, this article will be updated. So save it as a favorite or check back every now and then. Or subscribe to the newsletter or the push notifications for your browser / smartphone (iPhone and Android) - you will never miss it again Sir Apfelot News ;)
The keynote at Apple WWDC 2017 showed what the focus of this year was. If you want detailed information, you will find a list with detailed articles on the individual contents of WWDC 2017 under the short overview in bullet points. Here, however, the focus of iOS, macOS, tvOS and watchOS to iPad, Mac and Apple Watch:
tvOS currently has 50 partners and later in 2017 Amazon will be added with all content from Amazon Prime Video
The Apple Watch gets a new one WATCH, new watch faces, new functions for workout, music, etc. There is also a native core Bluetooth, with which third-party devices (blood glucose meters, fitness devices, etc.) can be coupled
The new one for Mac will be available at the end of 2017 MacOS High Sierra ("This name is fully baked!") With "Deep Technology", new technology for graphics, revised apps like Photo, etc.
The new file system APFS used by macOS High Sierra
iMac and MacBook range will be revised; the iMac Pro late 2017 will be a high-end machine for professional users (High-Resolution VR with 90 fps was demonstrated)
iOS has been completely redesigned in some places for iPhone and iPad. Messages, Siri, the compression of video and photos, functions for Live Photos, complete functionality for the iPad, new functions for the HomeKit, etc.
The Apple App Store has been completely redesigned and now provides an infinite amount of information in the three tabs "Today", "Games", and "Apps" (applications)
A new iPad Pro 10,5 inch was presented
For music and Siri at home, the Apple HomePod will be available from the end of 2017 and in Europe from 2018 - a high-end combination of Bluetooth speakers and AI assistance (with A8 CPU!)
Individual topics in detail
The list is still short at the moment, as the keynote with Tim Cook and cronies took place only recently (update: the statement is no longer correct). But here is an overview of the details of the news from the Apple World Wide Developers Conference 2017: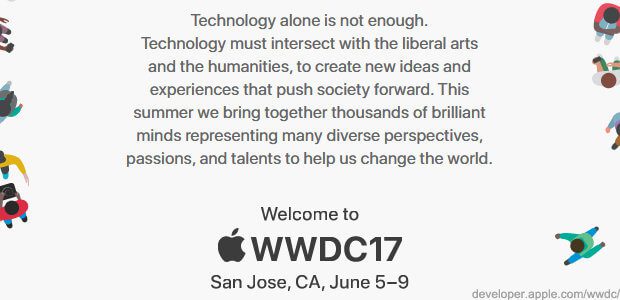 The pattern of recurring Apple events with news and information about iPhone, iPad, Mac, MacBook, Apple Watch, Apple TV & Co., in addition to WWDC 2017 in June, September 2017 can also be seen again. There was another one Apple Keynote – In 2017 the iPhone turned 10 years old! Some speculation about the iPhone 2017 (iPhone 8, 10 or X with iOS 11?) was already hotly debated in advance. What rumors and actual innovations are there this year? I am excited!
Apple WWDC 2016
So while we're waiting for WWDC 2018, let's see what has been delivered over the past few years at the Apple Worldwide Developers Conference for iOS, iPhone, for the app market, etc. For example, the following news and developments could be caught at WWDC 2016 (date: June 13th - 17th):
Apple Watch gets watchOS 3 with more interaction options
tvOS: the iPhone can be used as a remote control
OS X is officially converted to macOS (macOS Sierra 10.12)
iOS 10 will be presented in some functions - important for the app market!
Speculations about the iPhone 7 and iPhone 7 Plus arise
Apple Music and Home receive updates (design and features)
Apple WWDC 2015
With great anticipation for WWDC 2018, this Apple conference for developers and the curious seems very out of date again. Nevertheless, the innovations and adjustments in 2015 (date: June 8th - 12th) were just as innovative at the time as this year's keynotes and conferences in June and September will be:
OS X 10.11 El Capitan comes to Mac, iMac, MacBook, MacBook Pro and Co
iPhone, iPad and iPod get iOS 9 with a large Crab Update
Updates and new features for: Apple Pay, Passbook, Maps and News
Introducing the Quicktype keyboard for the iPad
Update for the App Store
Presentation of the functions of HomeKit and CarPlay
Apple Watch is provided with watchOS 2 and thus with its own apps
Apple Music is introduced
One More Thing, dear readers
If you want the latest Apple news, interesting articles from the world of technology and the universe of nerds, then you are welcome to subscribe to the Sir Apfelot newsletter. Mobile devices as well as various Browser such as Safari or Chrome can also be supplied with updates via push notifications. There is also a Sir Apfelot app for convenient access to articles via iPhone and iPad. Updates about the new WWDC date will be coming here soon, so stay tuned ;) By the way: Official information and news about special events are available on the Apple site.
After graduating from high school, Johannes completed an apprenticeship as a business assistant specializing in foreign languages. But then he decided to research and write, which resulted in his independence. For several years he has been working for Sir Apfelot, among others. His articles include product introductions, news, manuals, video games, consoles, and more. He follows Apple keynotes live via stream.