As you probably already know, we regularly look at creative accessories for Mac and PC here on the blog, including drawing tablets. An offer rated very well on Amazon comes from the manufacturer XENCELABS. Not only the graphics tablet is offered, but also two pens, several refills (plastic and felt), USB-A and USB-C dongles for a fast wireless connection and a wireless remote control with function keys and menu wheel. A well thought-out set for professional drawing on the computer. Here you will find further information and exclusive discount codes for shopping via Amazon.
Abkürzung that: Graphics tablet with accessories / Remote Control / drawing glove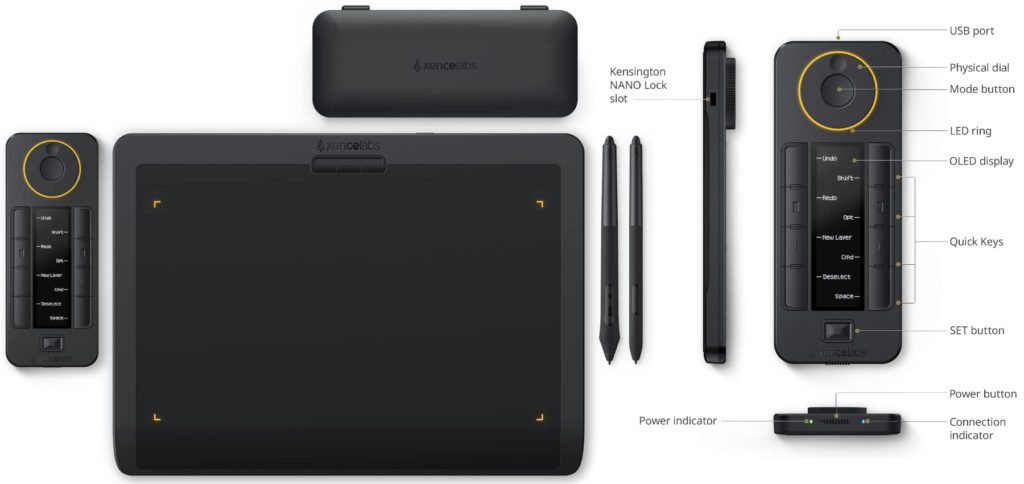 XENCELABS drawing tablet – functions of the devices
The XENCELABS graphics tablet offers an active area of ​​26,2 cm x 14,7 cm on which you can draw and write with the two included pens. The pens have no rechargeable batteries and do not require batteries. The tablet for drawing on the computer offers 8.192 pressure levels and supports up to 60° inclination of the pens.
In Photoshop, Affinity Photo, Krita, GIMP and Co., a wide variety of settings and options can be used for realistic drawing on digital surfaces. In addition to 2D applications, the whole thing should also work well in 3D environments. Thanks to a 3.000 mAh battery, the tablet can be operated wirelessly for up to 16 hours.
124,89 EUR
The two pens as input devices each offer their own shape as well as different buttons. They can be used for different projects or divided between two users of the XENCELABS drawing tablet. You can also equip each of them with a different mine, so that you don't have to change them if you use them alternately.
In addition, there is the remote control, which detaches the function keys and the menu wheel from the tablet itself - ideal for both right-handed and left-handed users alike. On the wireless shortcut remote control, 8 buttons can be assigned up to 5 functions that can be used in 29 different apps. The menu wheel lets you quickly switch between 4 tools or modes.
5,00 EUR
"Sir Apfelot" discounts for shopping on Amazon
If you have decided on one of the offers shown, then you can not only do something good for this blog (use the affiliate links), but also get a discount. Because we have exclusively received two voucher codes that you can use during the payment process on Amazon. They are valid immediately and can be used until December 31, 2022. So we might come back to it later in the year ;) Here is the overview:
Uses XENJENS2 for 20 euros discount for these products:
Xencelabs Graphics Tablet Medium Bundle in White: Buy here
Xencelabs Graphics Tablet Medium Bundle in Black: Coming soon
Uses XENJENSQ for 6 euros discount for the remote control:
After graduating from high school, Johannes completed an apprenticeship as a business assistant specializing in foreign languages. But then he decided to research and write, which resulted in his independence. For several years he has been working for Sir Apfelot, among others. His articles include product introductions, news, manuals, video games, consoles, and more. He follows Apple keynotes live via stream.
The page contains affiliate links / images: Amazon.de