As a VPN, ZenMate offers increased Internet security and privacy when using websites, Internet services and the like. According to its own information, the service already has over 45 million users worldwide and offers them 256-bit AES encryption, which should make it impossible for third parties to tap the data stream and spy on online habits. There is currently a discount campaign with a neat price reduction, due to which you can permanently only € 1,64 / month for ZenMate VPN pays. There is also a 30-day money-back guarantee for those who are undecided and testers.
TL; DR: Here it goes directly to the provider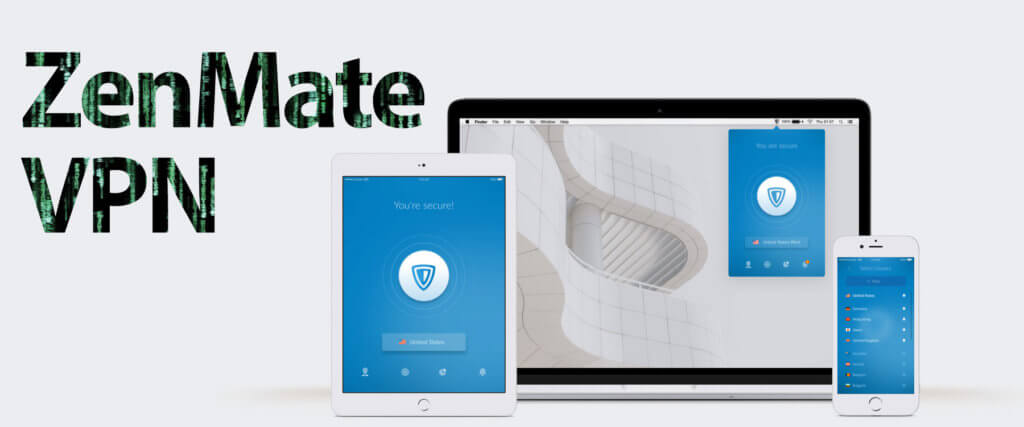 What is ZenMate VPN anyway?
ZenMate is a VPN service (VPN = Virtual Private Network) that encrypts and falsifies what the respective user is doing on the Internet. As soon as you access the website of the offer, it is shown why this may be necessary. Because at the very top your own location, IP address, network operator and protection status are displayed. With the ZenMate VPN you can keep all this data to yourself and you don't have to share anything that can be traced back to you with anyone on the net. This is not only important for journalists, diplomats and spies - VPNs are also in increasing demand in the private sector.
With ZenMate you get an encryption service from the German software company "ZenGuard" with branches in Berlin and North Rhine-Westphalia. App and plug-in for macOS, iOS, Windows, Android, OpenVPN and so on are offered. In the following you will find further information as well as answers to the most important questions about the offer, the integration into your own workflow, prices, usage and experiences. If you have any questions or would like to try out the offer, just take a look at the official website .
Features of ZenMate VPN Ultimate
ZenMate has both a free "Free VPN" and a paid "Ultimate" version. What the exact differences are, I'll show you below. Here you will first find the most important functions of the software in full:
Anonymous Internet use: Use of servers in over 60 countries around the world, through which your traffic is redirected in encrypted form
No log policy: ZenGuard, the developer behind the software, does not create a list or database of your activities and uses of the software
Unblock streams: Whether YouTube, Netflix, BBC, Amazon Prime, HBO Now or another service - with ZenMate you can unblock geographic restrictions on streaming
Watch live sports streams: In addition to films and series, there is also a lot of sports streaming that you can unlock thanks to the software - Champions League, NBA TV, NHL, NFL, Tour de France, etc.
Kill Switch: Should the ZenMate software unexpectedly stop working properly, the Internet connection will be cut so that data is not accidentally leaked
Server locations: On the linked page you will find various server locations that you can select; 2 cities with 226 servers in Germany, 6 cities with 515 servers in the USA, one city with 34 servers in Japan - and many more!
How does the service affect my internet speed?
Of course, redirecting traffic always means that requests and their responses take a little longer. Unlike one proxy-Website are VPN services that you install directly on the end device, but are designed to offer the best bandwidth. ZenGuard is also working for its ZenMate VPN to ensure that the best connections are possible. After all, streaming from relevant providers and live offers are also advertised - so you won't slip to the level of a 56k modem :D In a ZenMate VPN test, I also saw that the values ​​for upload and download are only in the Decimal places were easy after using a server in Australia, for example.
Does ZenMate work with Netflix and Amazon Prime?
Yes, with ZenMate you can unblock Netflix content offered by Netflix DE, Netflix FR, Netflix US and Netflix UK, for example. Amazon Prime Video content is also listed by the provider and can therefore be used from another region. There are also YouTube, the BBC iPlayer, 7TB, ORF, Globo, Yle, Zattoo DE and others.
Does ZenMate offer browser plugins for Chrome and Firefox?
Yes, the offer package includes plugins for the web browsers Chrome from Google and Firefox from Mozilla. In addition, these plugins are an essential part of the free VPN offer. To compare the free and paid VPNs from ZenMate, you can find the information you need under the next subheadings.
Is ZenMate VPN free?
There is a ZenMate Free VPN that you can use to unlock streaming and encrypt your internet usage. The free version of the offer is only available as Browser-Plugin available for Firefox and Chrome. In addition, it does not contain all the functions that you get in the premium version. Here is a comparison:
| | | |
| --- | --- | --- |
| | Free VPN as a plugin | ZenMate Ultimate |
| Server locations | Only 4 locations can be selected | Selectable servers in over 60 countries |
| Speed | 2 MB / s maximum | Theoretically unlimited (depending on your own tariff, connection and server) |
| Works with ... | Google Chrome and Mozilla Firefox | macOS, Windows, iOS, Android, Chrome, Firefox |
| No log policy | ✔︎ | ✔︎ |
| P2P and torrents | ✘ | ✔︎ |
| OpenVPN | ✘ | ✔︎ |
| Streaming-optimized servers | ✘ | ✔︎ |
| Kill Switch | ✘ | ✔︎ |
| Identity Shield | ✘ | ✔︎ |
| Personal support | ✘ | ✔︎ |
What does ZenMate VPN cost?
The free offer from ZenMate VPN does not bring you all the necessary features that you need to be completely anonymous and optimized on the Internet. If you want full bandwidth, servers optimized for streaming and more, then you should take out a subscription. There are currently very good offers for this. Here are the three subscription models and the student discount with the costs for ZenMate VPN:
Monthly payment: 1 month each for € 9,99
Annual payment: 12 months with € 4,49 / month (total: € 53,88)
Student discount: 1 year for only 1,75 € / month (total: 21,00 €)
Payment every three years: 36 months with € 1,64 / month (total: € 59,04)
Payments are possible by credit card (MasterCard, Visa, American Express, etc.), by GiroPay via PayPal and other services. You can get details on the Website of the provider.
What experiences have users had with the VPN?
I not only looked at a ZenMate VPN experience, but also looked at several experiences and reviews as well as user reviews. The large network of servers and the stability and speed of the connections are praised. Access to streaming was also rated positively. If you look at the tests, some months ago, and the current data and features of ZenMate, you can see that ZenGuard's criticism is taken seriously and that improvements are always being made. Because now there are more servers, sometimes lower prices and so on. Accordingly, with a 1-year or 3-year subscription, you should not only get a good VPN over the long term, but also get improvements over and over again.
If you are looking for a VPN that not only encrypts data traffic but also filters out malware that can be hidden on shady websites, you should look no further Surfshark look at. I have here in the post on preventing malware already referred to this function of the VPN.
Jens has been running the blog since 2012. He appears as Sir Apfelot for his readers and helps them with problems of a technical nature. In his free time he drives electric unicycles, takes photos (preferably with his iPhone, of course), climbs around in the Hessian mountains or hikes with the family. His articles deal with Apple products, news from the world of drones or solutions for current bugs.