Actually, I just wanted to play another round of Brawl Stars, but I know myself: Then I can't get away from the game and the post takes another three weeks. I wanted to write about the game a long time ago, but I couldn't because it was more fun to play. : D
If you'd like to read less and try more, you can Install Brawl Stars for free. There are no ads and there are no major drawbacks for players who do not spend money on in-game currency. A really fair game concept, so to speak.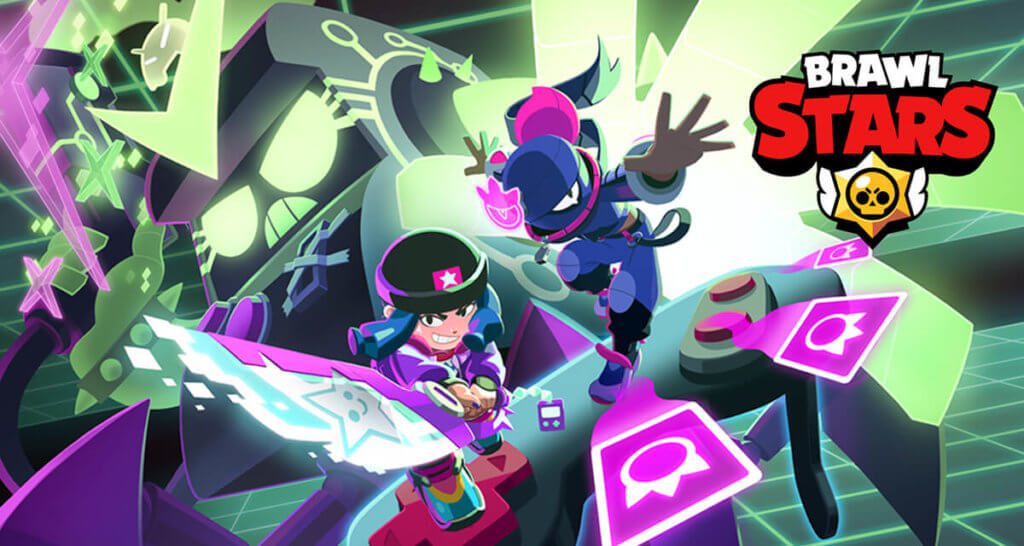 What is a MOBA ???
Ok, I had to do it myself first Wikipedia read up which genre Brawl Stars falls into and read me what a MOBA actually is. The abbreviation stands for Multiplayer Online Battle Arena - in other words: you play online - preferably on your smartphone or tablet - and you have a team with which you have to defend yourself against other teams.
The team consists of two or three people, depending on the game mode you have chosen. Here you can either team up with friends or the game searches for playing partners within a few seconds who can come from all over the world.
Matchmates and opponents according to skill level
And this is where the first nice thing about Brawl Stars comes into play, because you don't get random opponents and fellow players in front of your nose, but depending on the strength and type of your own character, the game looks for partners and opponents who are both similar in strength as well as the fighter type fit well into the team or as an opponent.
There are different "brawlers" (that's what the characters are called) in the game from which you can choose. Some of these are good at ranged combat and some at close range. Of course, you tend to want to have a team that consists of both types of brawlers, and the "intelligence" of the game takes care of that when putting it together.

The Brawlers - super cute and super mean
The characters in Brawl Stars are made with great attention to detail. There are currently 33 brawlers that can be gradually unlocked. Each brawler is animated extremely fancy (you can see that the development studio had plenty of money to spare for stuff like that) and all of them have special weapons and properties.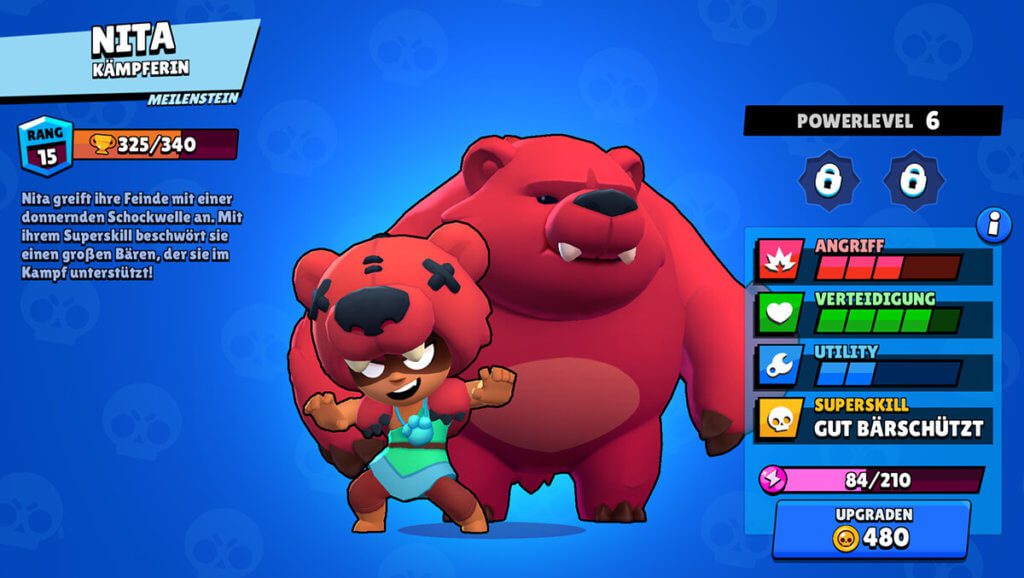 El Primo, for example, is a close-range fighter who boxers and makes an elbow drop as a super weapon. Nita is a lady who sends out a medium range shockwave. With her super skill, she can summon a bear, which then runs to the next opponent independently and spanks his butt. Barley, on the other hand, is good when it comes to range, because he throws bottles around and, as a super skill, can even send a batch of burning bottles.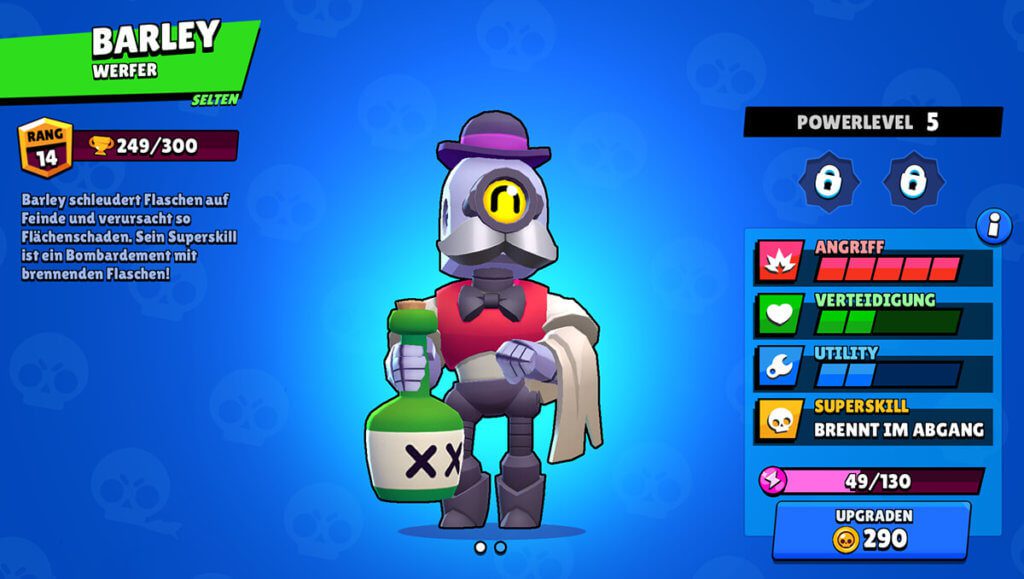 The characters all look nice and cute, but some of them have really nasty attacks. This allows Piper to shoot at great distances and her shots do more and more damage at a greater distance. And just when you think you've stalked up to her and can take on her, she throws four grenades, jumps up and sails out of reach with her parasol.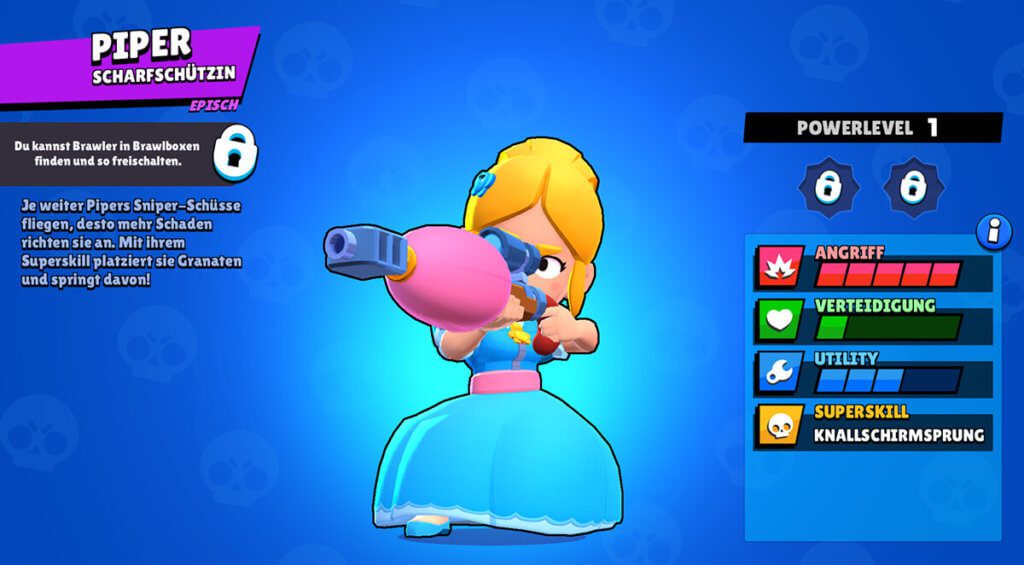 Sometimes you really like to bite into the iPad when you have to accept another defeat. But you actually know that it is the same for others, which is why at some point a healthy equanimity will set in: you are happy when you win and take a deep breath when you lose.
Lively sayings for more fun
I think the spells that the brawlers make when they are hit or killed are nice as well. For example, Poco is a guitar player who attacks enemies with sound waves. When killed, he yells "You broke my guitar!". Even in between, he always has a nice saying ready, which loosens up the game immensely.
Cooperative game with friends
I think the best feature in Brawl Stars is playing together. It doesn't matter whether you meet with friends here or you play with people whom you have just been drawn. It's just nicer when you can take care of each other and play in a team. If you have the guitar-playing Poco, which I mentioned above, you can, for example, heal your teammates with a shower of flowers. On the other hand, El Primo often keeps the opponent at bay.
I've also had some nice father-and-son moments at Brawl Stars where we beat up other teams together. And of course you can - at least as often - lick each other's wounds when you've got your pants pulled tight again.
Hiding and lurking in the bushes
Bushes in the game offer a very nice option, because they protect your own player from the eyes of your opponents. For example, if you have just taken a lot, it is advisable to hide in a bush in order to slowly collect health points again.
As long as you don't shoot or get hit, you remain invisible to other players until they pass right next to you. This possibility can of course also be used to ambush other players with a good melee brawler and then attack them from the bush.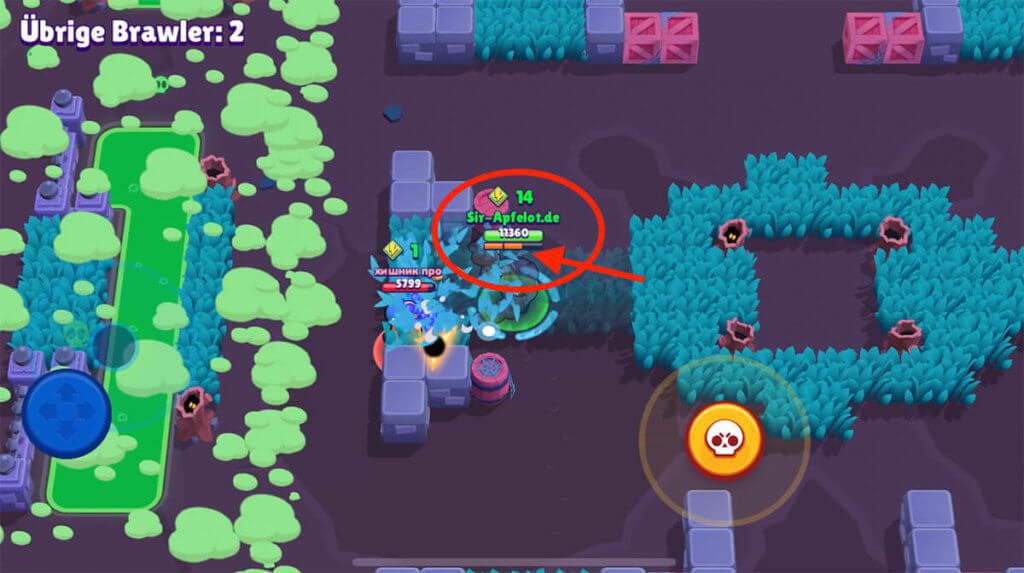 Infinite ammo, but reloading takes time
Each brawler has a small bar that shows how many shots they have left. This bar recharges at different speeds. You don't have the problem that you will eventually end up without ammunition, but you still have to look for cover after a few shots so that the brawler can (automatically) reload.
This restriction makes it more balanced when you play against brawlers who are good at hand-to-hand combat, because when they fire three shots without a hit, you have a few seconds to hit back or run away.
Find new friends with the player ID
If you want to play specifically with friends, you simply exchange your player ID. The partner enters this in Brawl Stars and you can become "friends". You can always see when your friends are online and you can even take part in their games as a spectator.
If you want to play a game together, you simply invite yourself to your team and agree via chat or pre-prepared text modules which map you want to play and which brawler each individual best uses. The text modules bridge language barriers, because in this way you can talk roughly to people whose language you do not speak.
If someone wants to gamble with Sir Apfelot: my player ID is # PRCC99UCL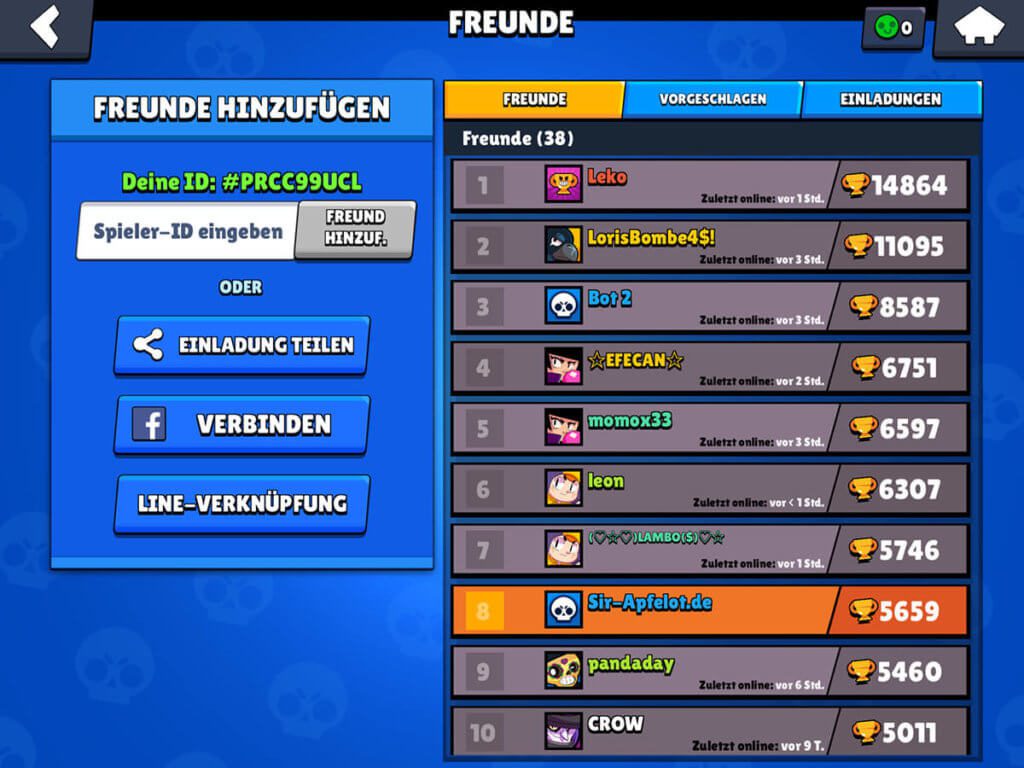 Another option to find new game friends is the "Suggested" list in Brawl Stars. If you call up this list, the people with whom you were last in a team appear there. You can then select them with one click and ask them if they want to become a friend. I like to invite people with whom I have won several times in a row using this function.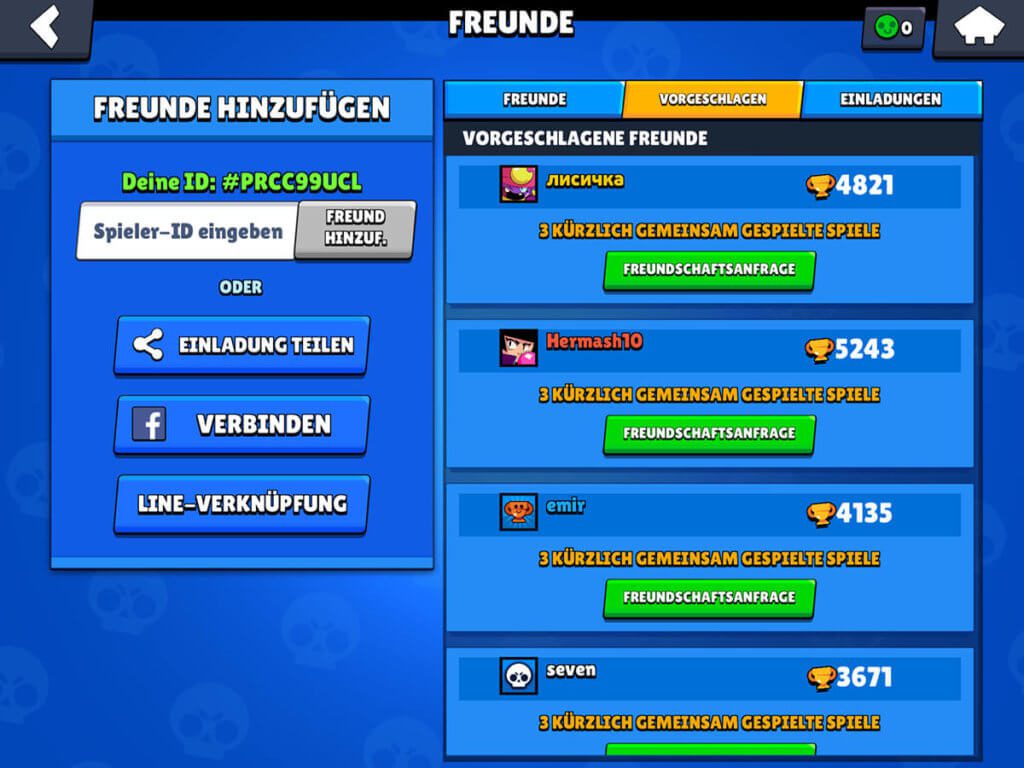 Last seen indicator: better than screen time
Since my son invites me to team up with his school buddies more often, I'm also in-game friends with some of his classmates. If you go to the friends list there, you can see, among other things, when they were last online at Brawl Stars. So I often couldn't resist the comment: "Well, Felix (name changed by the editors)! Played again until half past eleven yesterday?" The amazed faces and the facial expression of "feeling caught" is really priceless. :D
The different game modes
So that the game doesn't get boring, you can choose from different types of games. A game usually lasts no longer than a few minutes. Here is a small overview of the available game modes:
Hot zone
In this game mode, one or two circles are marked in the middle of the map. As long as at least one brawler on a team manages to stay in this marker, his team receives points. The aim is to keep the opponents out of the areas and to occupy both areas yourself if possible. Sometimes there is only one hot zone, which is accordingly hotly contested.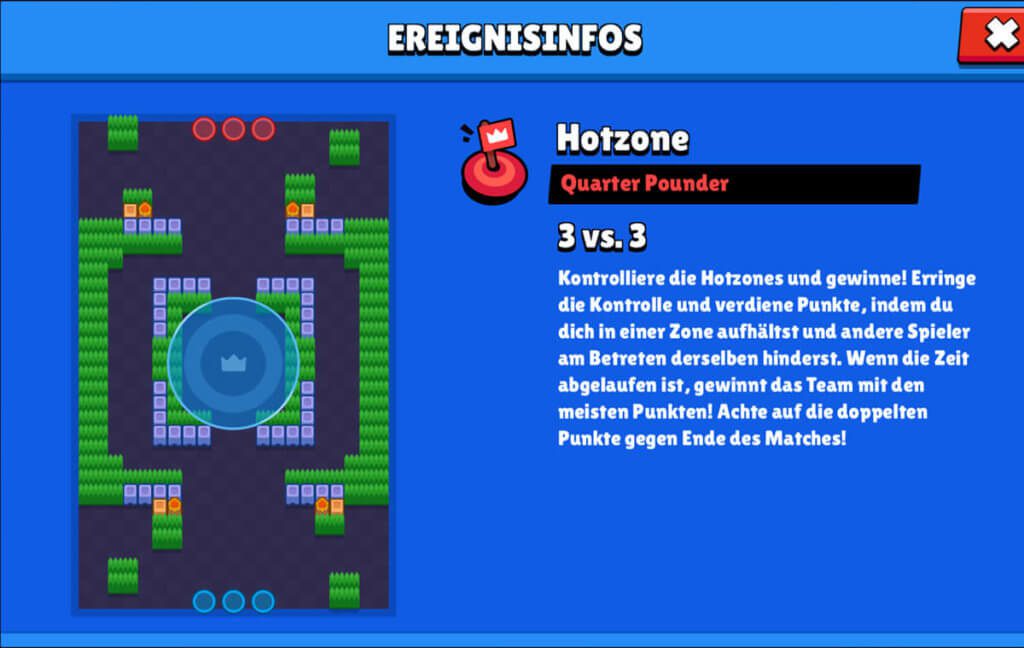 Jewel hunting
In this game, a jewel appears in the middle of the playing field every few seconds. The aim is to collect at least 10 jewels in the team and then keep them for fifteen seconds. If you shoot an opponent, all your jewels fall to the ground at this point and can be picked up by any other player.
Here a hectic fight often breaks out towards the end when you try to kill an opponent's piece within 15 seconds so that you can collect their jewels. That way, when a brawler has all the jewels, the tide can quickly turn completely.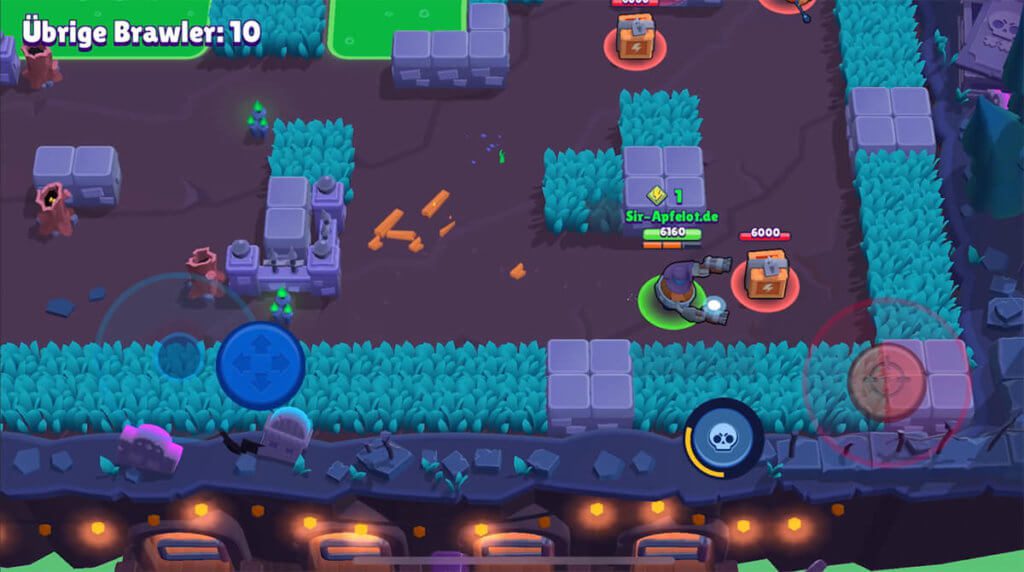 Showdown (duo or solo)
The Showdown mode can be played alone or in pairs. If you play alone, ten pieces appear on the map with you. The aim is to be the last to survive here.
In a duo showdown, you compete against each other in teams of two, with a total of five teams on the map. The special feature of duo mode is that a team is only out if both partners have been dealt with within 15 seconds, because that is how long it takes to respawn.
Brawl ball
In principle, this is a kind of football in which you compete against each other in teams of three. You have to put the ball into the opponent's goal, but you can only use your weapons when you don't have a ball in your hand. Since the dead players only come back after a few seconds in this mode, it is helpful if you have killed as many as possible before you start to storm the goal.
Vault robbery
In safe robbery you play against each other in teams of three. The goal in this mode is to crack the opponent's safe. This has a fixed amount of "health points" that must be reduced to zero. I find this mode very varied, since you have to defend your own vault as well as attack the other vault. Anyone who just storms off will certainly not be successful here.
Bounty hunting
Bounty hunting, as the name suggests, is about killing as many opponents as possible. However, there is also a special feature here, because for every opponent you have defeated you get one more star. If you are now brought around the corner by the opponent, he receives all the stars that you had before. Good marksmen of the opponents are becoming more and more interesting as targets. ;-)
siege
During the siege you have a robot factory at the end of the map that you have to feed with bolts. The bolts appear in three places in the middle of the map and every half a minute the team that has collected the most bolts at that time can send their siege robot into battle against the other factory. The more bolts you have collected, the more damage the robot does.
However, the factory has good defenses and sends any brawler that normally comes near it to nirvana in a few seconds. However, if the combat robot is on the move, the fire will concentrate on it and you can help attack the factory. Melee fighters like Rosa or El Primo score points here, of course, but Barley can also do a lot of damage from a distance.
Special modes
There are still some special modes like "Robo Rumble", "All against one" or "Boss fight" that are open from time to time. In addition, Supercell likes to unlock a special mode for Halloween, Christmas and similar events, which you can then play. A certain variety of play options is therefore provided.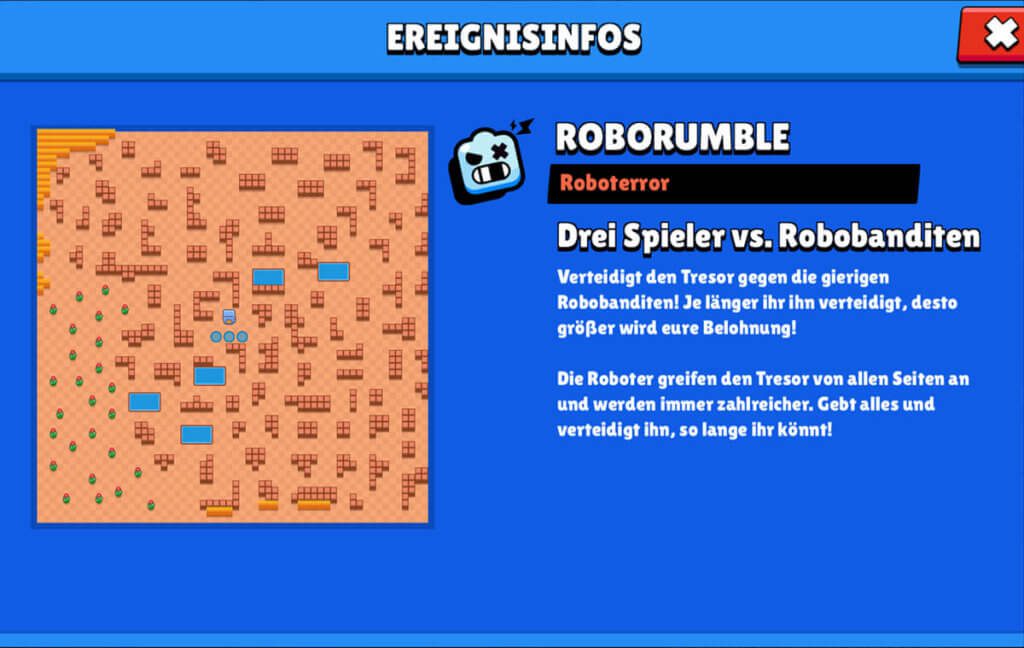 A lot of variety through different maps and brawlers
Anyone who thinks that the game quickly loses tension despite the different game modes is wrong. With different maps and events that change every few hours, Supercell has ensured that the fun of the game is maintained. In addition, you gradually unlock new brawlers, who of course all have different advantages and disadvantages.
I've been there for a few weeks now and still have fun fighting other players. Of course, if you get better yourself, you get better and better opponents. So it will always be a challenge, even in terms of difficulty.
Since the game can be downloaded for free, there is no risk in giving Brawl Stars a chance. It's also really fair because you can do without in-app purchases at all. If you like, you can of course throw in money and make yourself stronger brawlers, but the people do not necessarily only have advantages, as they automatically have to reckon with stronger opponents.
If Brawl Stars sounds interesting to you, you can here find in the App Store:
[appbox app store id1229016807]
Maybe we shall meet again! ;-)
Jens has been running the blog since 2012. He appears as Sir Apfelot for his readers and helps them with problems of a technical nature. In his free time he drives electric unicycles, takes photos (preferably with his iPhone, of course), climbs around in the Hessian mountains or hikes with the family. His articles deal with Apple products, news from the world of drones or solutions for current bugs.