Do you want to be able to dare a battery comparison in September 2019, when the iPhone 11 - or whatever it may be called - is presented? Then you need information about the battery capacity of a current model, such as the Apple iPhone XR. How much battery does the Apple iPhone XR have in mAh? I have summarized the answer to this question and a few more information for you in this little message;)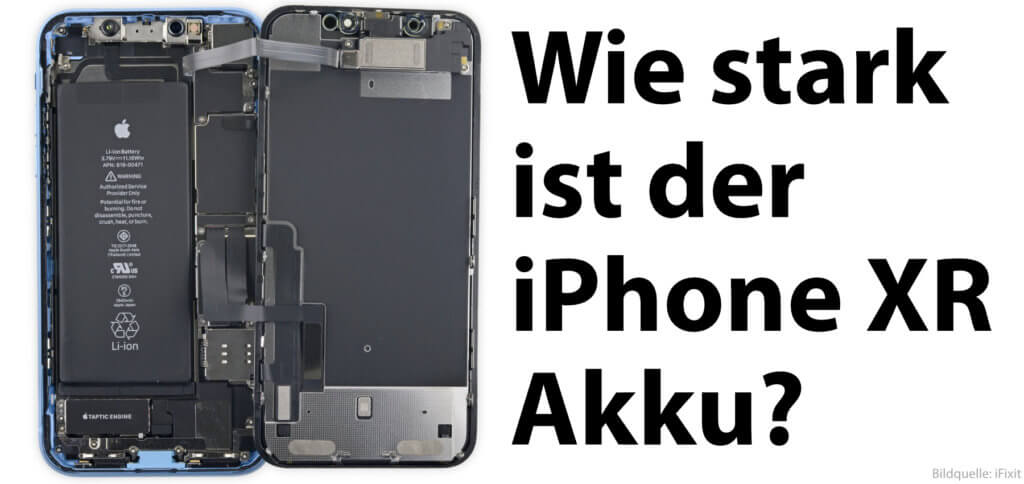 The Apple iPhone XR battery capacity in mAh
Experts do not advocate specifying the battery capacity of a device in the unit milliampere hour (mAh), since volts and watt hours are more precise. For average consumers, however, this unit has established itself as a benchmark. Therefore, along with further information, here is all the information about the battery installed in the iPhone XR:
Accumulator: Li-Ion battery
Voltage: V 3,79
Watt-hours: 11,16 Wh
Apple Part Number (APN): 616-00471
MAh: 2.942 mAh
Source: iFixit
Nominal capacity of all iPhone batteries
The unit mAh or the thousandfold in the form of the unit Ah. (Amp-hour) is called "nominal capacity". If you want to compare all nominal capacities from the iPhone of the first generation to well-known and popular models such as iPhone 5, iPhone SE, iPhone X and so on, take a look at this blog entry: Apple iPhone battery capacity (mAh) of all models. I update this whenever there is information about new smartphone models with iOS. I usually find this on iFixit with a photo of the battery as proof (see above), on Wikipedia or other sources that look as if they know what they are writing.
Apple itself usually does not disclose any technical data on the batteries when the company's smartphones are presented at the keynote. For this reason, you are initially dependent on alternative sources - immediately after the iPhone was released. iFixit usually does a good job here and is one of the first to publish technical data on the iPhone.
Jens has been running the blog since 2012. He appears as Sir Apfelot for his readers and helps them with problems of a technical nature. In his free time he drives electric unicycles, takes photos (preferably with his iPhone, of course), climbs around in the Hessian mountains or hikes with the family. His articles deal with Apple products, news from the world of drones or solutions for current bugs.