A few weeks ago, Markt + Technik Verlag sent me the book "macOS Big Sur picture by picture" by Philip Kiefer so that I could take a look at it and give my opinion.
I received the book for free, but there was no agreement with the publisher that I should have the review approved or anything like that. I only write "free snout" or not at all. That's the deal when someone wants to send me a test product.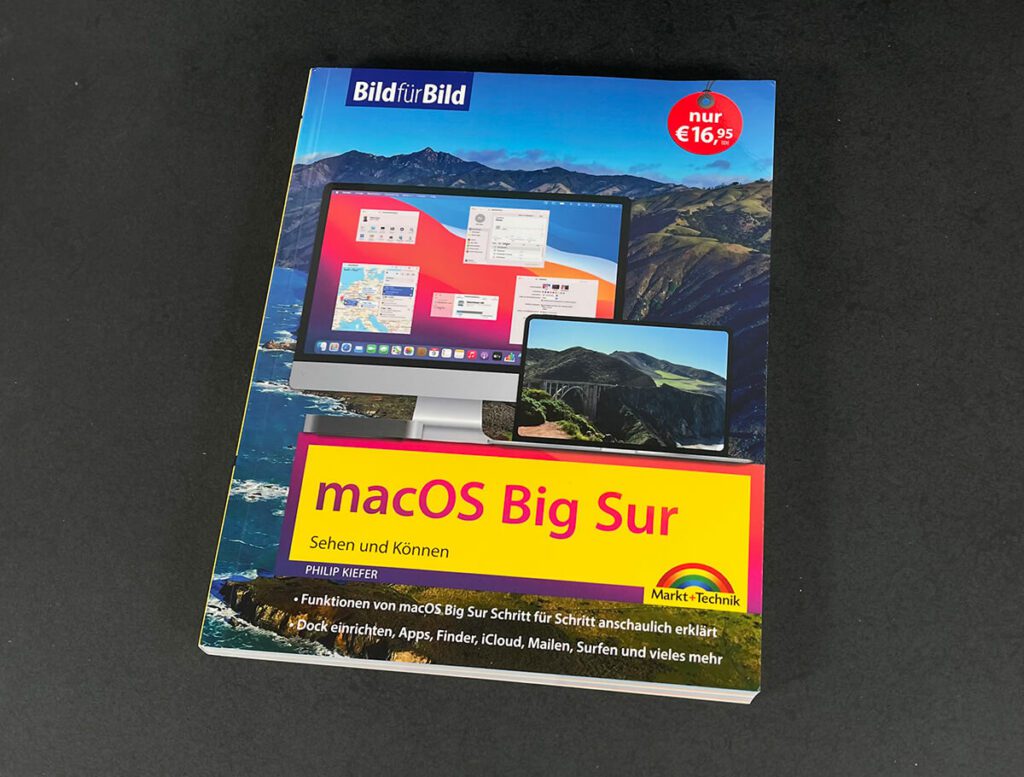 The "technical data" of the book
The book has a good 335 pages, all of which are completely printed in four colors. I mention this because there are still computer books that are only printed in black and white - even if I find this rather clumsy with such instructions. But as I said: this "picture by picture" book about Big Sur is completely colorful.
Here is the most important information in bullet points:
Title: macOS Big Sur picture by picture - seeing and being able to
Author: Philip Kiefer
Publisher: Markt + Technik
Pages: 335
Price: 16,95 EUR at Amazon
The topics in the table of contents
Here I name the overarching topics from the table of contents, so that you know roughly what the book is about:
Your Mac firmly under control (the basics of using Finder and Co)
Personalize your Mac's user interface
Data exchange in WLAN and iCloud
Manage files, folders and drives with the Finder
Install apps and devices securely
How to surf the Internet with the Safari app
Email, send messages, and make calls on your Mac
Import, manage and edit recordings
Use your Mac as a media hub for music, movies, and more
Get to know other useful apps
Fix problems and secure your Mac
Tips for Windows users and useful keyboard shortcuts
Index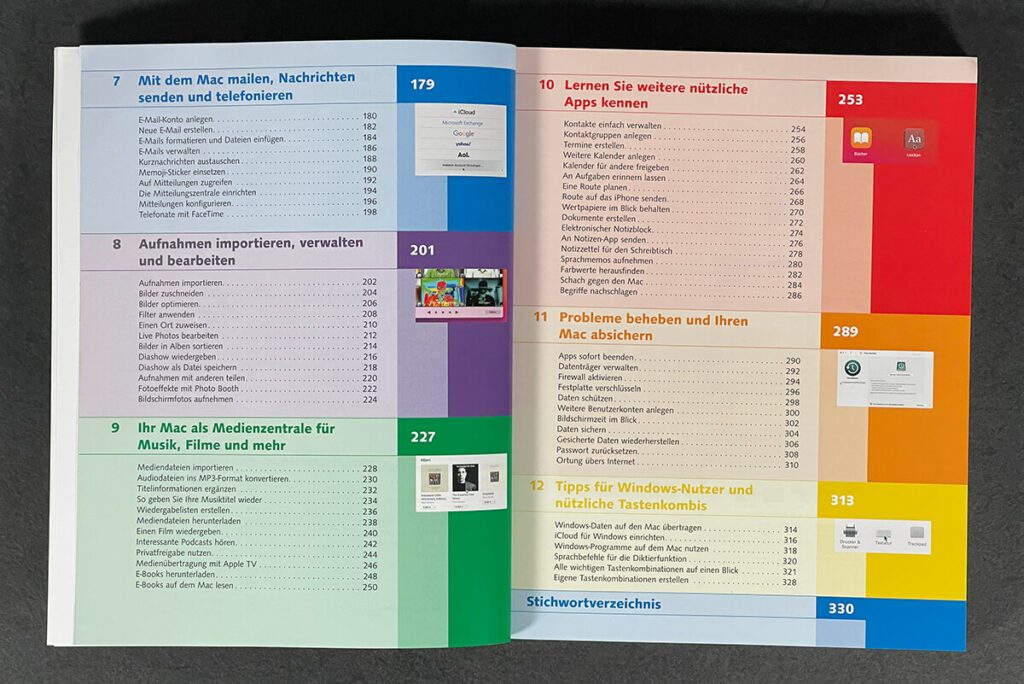 Presentation and target group
The book is definitely something for the Mac novice. While with other books you have the feeling that a bit of computer understanding is required, you can actually hand the picture-by-picture book into the hand of someone who is using his new Mac for the first computer of his life has his fingers.
The book covers all the important areas and also explains the little things very well with detailed screenshots. The topic "How to surf the Internet with the Safari app" also explains, for example, what a URL is, how to search using Google and how to surf via a "private window" without saving data. So there are really a lot of things being highlighted.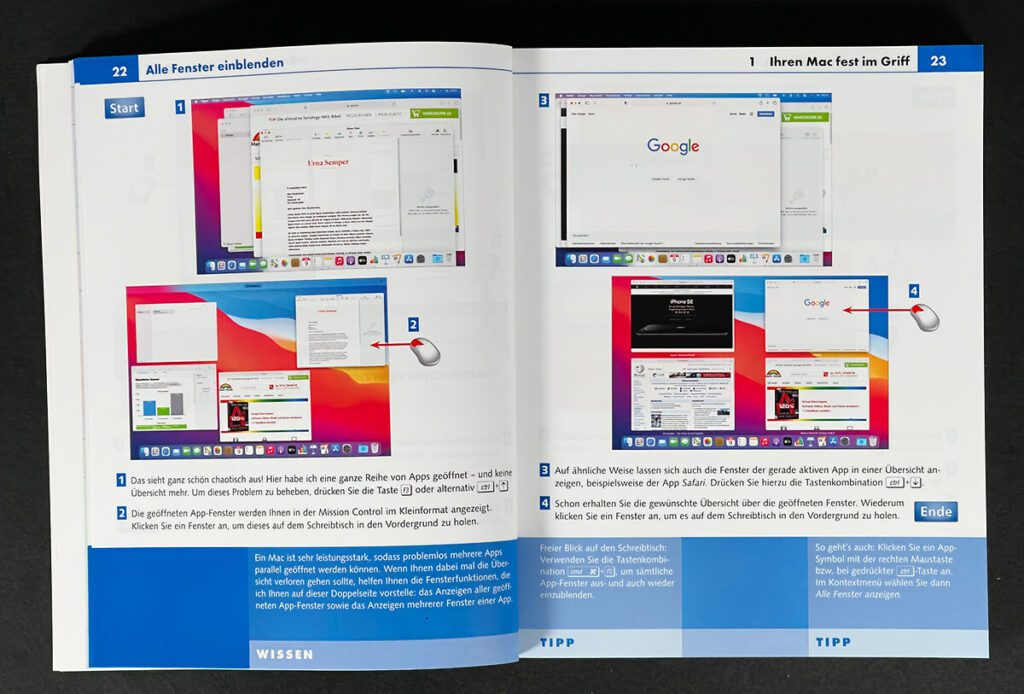 Lots of screenshots and detailed step-by-step instructions
A real benefit of the book is that it picks up absolute beginners here. About half of each page is filled with screenshots and explanatory graphics. The rest of the content consists of detailed instructions with individual points to work through and small boxes with helpful tips at the bottom of the page.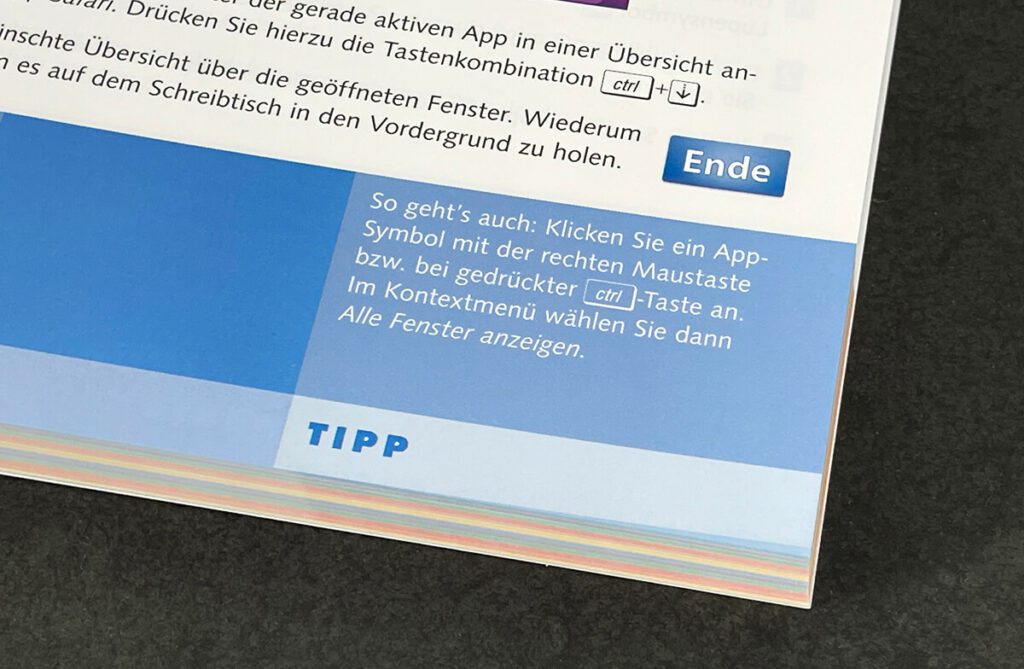 I think the book is very suitable for people who have no experience with macOS. The work should also be helpful for seniors who are afraid of modern technology.
Not just especially for "macOS Big Sur"
Anyone who expects the book to contain instructions that specifically address the new features of macOS Big Sur will be disappointed. You can usually find better information on websites. The screenshots are of course still suitable for Big Sur, even if many functions are also available under older macOS versions.
For beginners, however, it is important that the icons and buttons are exactly where they can be found on the screenshot, otherwise the instructions will not work and the reader may be unsettled. That won't happen here, because the topicality of the representations means that there is an exact match between the user screen and the book image.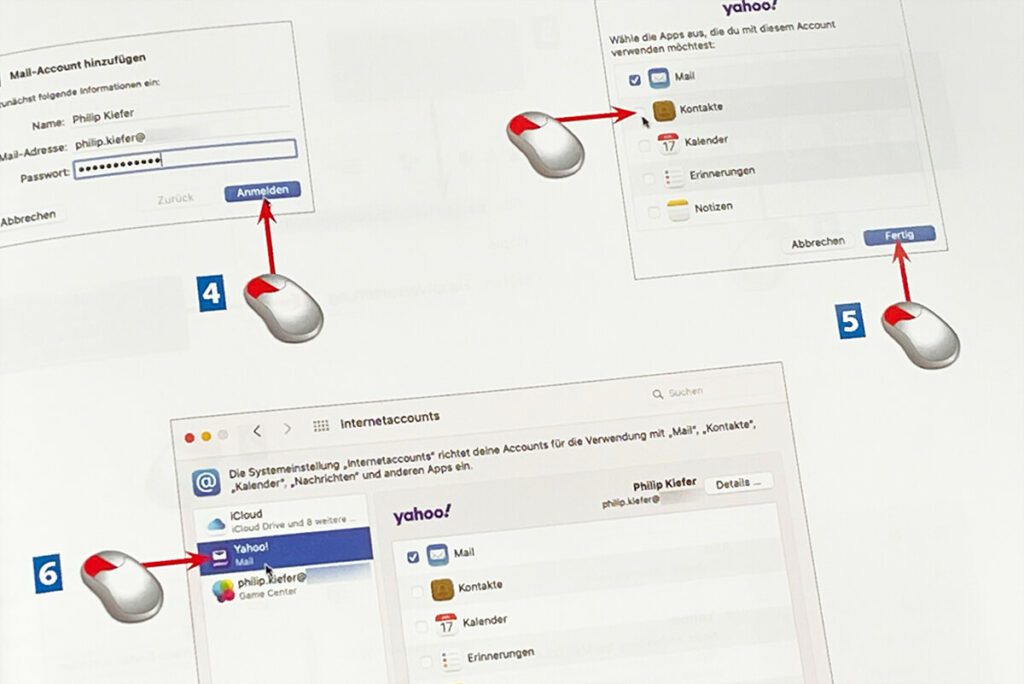 Numerous positive reviews on Amazon
The reference work is the bestseller in the "Mac OS" category. Not without reason, because the book is actually a good help for many Mac beginners. This is also reflected in the customer ratings:
The instructions in pictures - ideal for seniors - With the appropriate pictures, the instructions in the text are easy to understand and safe.
The following rating shows that - contrary to my assessment - it may even help advanced users.
Perfect right from the start - very nice illustrations and simply explained [...] Who is the book intended for? I've been working with Macs for a long time and I was still able to learn a lot of tricks. If you are new to the Mac and have switched from Windows, this book is perfect for you, so that you can do everything right from the start. Top book at a good price.
The following rating is also very good:
Good and informative book for the Mac novice […] In summary, I can say that it is a very useful book for the Mac novice, it is not so suitable for experienced users. Although you can also find one or the other tip that you may not yet, or not yet know. I think picture for picture is also very helpful for the newcomer, because a picture is often worth a thousand words.
All reviews can be found here at Amazon. I think you don't go very wrong if you buy the book as a beginner - especially since the price of just under 17 euros is absolutely okay. For advanced Mac users, I might recommend something else, but then you usually dig deeper into your pocket.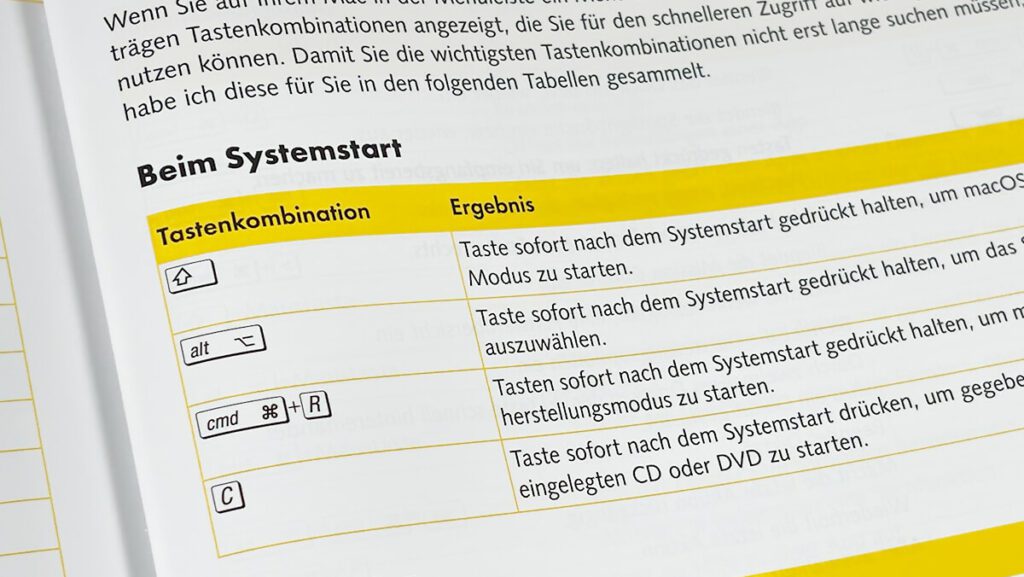 Due to the screenshots, the content naturally takes up a lot of space. For this reason, the information density is a little too low here and there if you have already gained experience with the Mac. For example, you have a (not entirely complete) list of keyboard shortcuts that you can use at system start-up, but there is no explanation as to when to use recovery mode or safe system start.
This is not meant to be a criticism, because it simply arises from the concept and target audience of the book. It is difficult to pack hundreds of screenshots into a book and structure it very well for beginners and at the same time provide enough information for advanced users. Potential readers of the book should be aware of this.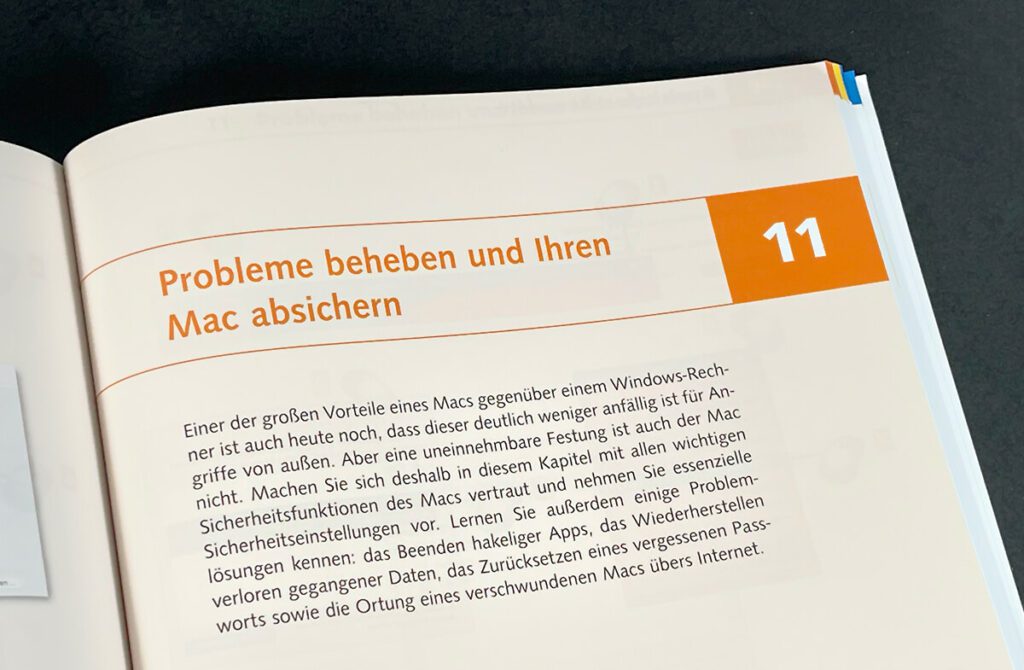 My conclusion on the macOS Big Sur picture by picture manual
If you are already familiar with the Mac and have no basic operating problems, you may not find enough new in the picture-by-picture book.
For newcomers or those switching from Windows to Mac and not yet familiar with the entire macOS user interface, however, Philip Kiefer's work is a very good reference work with lots of screenshots and graphics to help you find your way around the Mac.
Anyone interested in the book "macOS Big Sur picture by picture" will find it here at Amazon.
Since I'm already quite fit on the Mac, I'll be giving away my copy in my newsletter. Please sign up thereto take part in the raffle.
Jens has been running the blog since 2012. He appears as Sir Apfelot for his readers and helps them with problems of a technical nature. In his free time he drives electric unicycles, takes photos (preferably with his iPhone, of course), climbs around in the Hessian mountains or hikes with the family. His articles deal with Apple products, news from the world of drones or solutions for current bugs.