Today I have a special hub in my "test laboratory": A 3-port USB 3.0 hub that can be connected to the Apple MacBook (12 inch) via the Micro-C USB connection. If you are looking for a hub with a USB 3.0 connection, you can my post about USB 3.0 hubs read. But this is about an Inateck hub that is connected to the computer via USB-C and then provides USB 3.0 ports. It consists of a unibody aluminum housing and, in addition to the three downward compatible USB 3.0 ports, also has an RJ45 Ethernet socket with which the MacBook can be integrated into a cable-based network via the hub.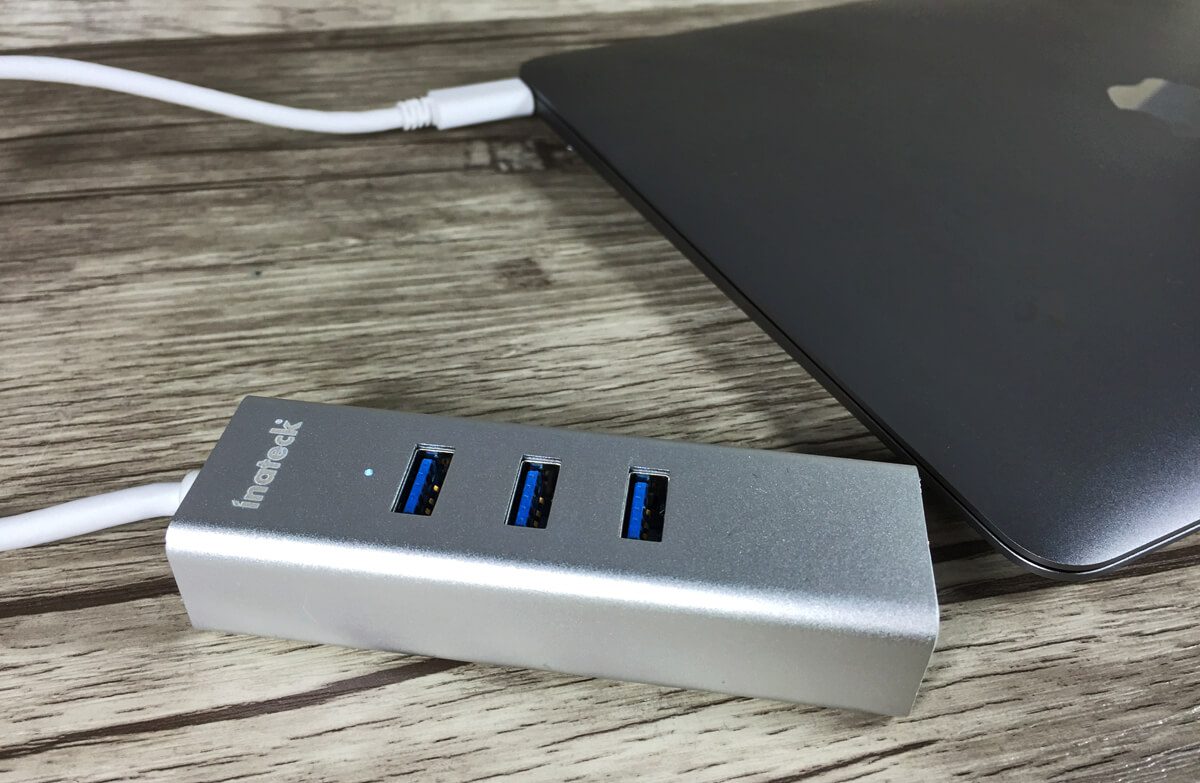 USB-C? Never heard!
The manufacturer Inateck has the USB-C hub labeled HB4103C only recently on the market, which is probably due to the fact that there are still few computers that have a USB-C connection. It is far from being as common as the "normal" USB port, which all iMacs and MacBooks currently support - except for the 12-inch MacBook from Apple, which only has this one USB-C port as a slot for has external devices. The MacBook is even charged via this connection, which already shows how diverse the specification of the USB-C interface is.
In addition to the MacBook, the Google Chromebook Pixel 2015 is apparently a laptop or netbook that uses USB-C. There will certainly also be tablets and smartphones that support this interface, but as Sir Apfelot I am of course primarily interested in using the Apple MacBook. ;-)
Where is the Inateck USB-C hub used?
Possible areas of application are explained in the description of the hub:
This HB4103C not only expands your computer by three USB 3.0 interfaces so that you can use your USB 3.0 devices again without having to buy new USB-C devices, but also by a direct network interface. Use these distributors with Ethernet adapter to be able to access several networks directly, to replace a damaged LAN outlet, to add Ethernet to a device without a physical network connection or to replace conventional network cards. This ethernet adapter can not can be used to connect USB devices to a computer via the network. The trunk connection takes place exclusively via USB.
For owners of the Apple MacBook, however, the hub is not so much a way of replacing defective network cards as it is an expansion of its connection options. The MacBook only comes with a USB-C connection and therefore offers no possibility of connecting USB devices with the usual USB connector. Printers, hard drives and USB sticks cannot be connected without an adapter. Apple offers such adapters, but they are usually quite expensive and also do not have a hub function. That means you only have a normal USB connection available and you would have to plug in an extra hub in order to be able to use several ports. Seen in this light, the Inateck hub offers more functions for little money. It is available in two versions:
HB4103C: USB-C connection with 3x USB 3.0 ports and 1x Ethernet port - approx. 28 EUR (my version tested here)
HB4102C: USB-C connection with 4x USB 3.0 ports - approx. 18 EUR
Technical data and functions
Here is some information about the technical details of the hub:
Supports USB Type-C (5 Gb / s), USB 3.0 (5 Gb / s), USB 2.0 (480 Mb / s), USB 1.0 (12 Mb / s)
Network connection works without driver installation
Supports IPv4 / IPv6 networks, full duplex, automatic channel. and bandwidth control

Integrated Gigabit Ethernet adapter with RTL5401 & RTL8153 chipset supports a bandwidth of 1000 Mb / s, with simultaneous downward compatibility to the network modes 10/100 Mb / s

works with OS X and Windows XP / Vista / 7/8 / 8.1 (32/64 bit)
compatible with

12 inch MacBook, tablets Nokia N1, Chromebook Pixel 2015, Nexus 6P, Nexus 5X, Pixel C

ua.
Aluminum unibody case
Connection USB-C to 3-port USB 3.0 with Ethernet adapter
Installation on Mac: "Plug and Play"
It's funny sometimes. I looked at the user manual for the hub and there was an "Installation" chapter divided into "Installation on Windows" and "Installation on Mac OS" (ok, OS X would have been more correct here). The chapter for Windows contained a two-page step-by-step guide with screenshots. For Mac: Plug in and it works. Man, sometimes you forget how nice it is to work on a Mac. ;-)
My test: transfer speeds of USB 3.0 hard drives and USB sticks
I have to admit that with a hub you don't even know what to test at first. The processing in aluminum leaves nothing to be desired. You plug it in and it glows. You plug in a hard drive and it appears as usual on the Mac and shows no problems with reading or writing. So a hub is actually a device that, in the best case scenario, you go unnoticed because everything works as usual. And this is exactly what the Inateck USB-C hub does: It works reliably and without failures.
Still, I had the feeling that I had to put it through its paces a little more. So I did the BlackMagic Disk Speed ​​Test and then let the hub on my MacBook with two USB 3 hard drives and a USB 3 stick compete against the Apple Hub and against the direct connection of the devices to my MacBook Pro.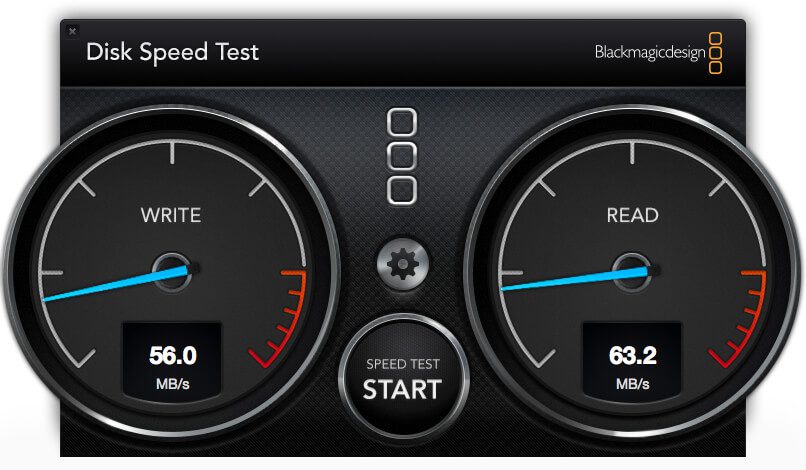 The results were clear: the speeds that my USB3 hard drive or USB3 stick showed on the Inateck Hub are not significantly different than when I use the Apple USB-C to USB-3 Hub or the devices directly Connect to my MacBook Pro via USB 3.
The values ​​when writing to a USB-3 hard drive from Western Digital were consistently around 52-56 MB per second, while reading around 60-65 MB per second was achieved. When writing to a Transcend USB 3.0 stick, both values ​​were about 5 MB / s higher. This means that when working with the hub there is no loss of speed compared to direct connection to a USB 3 port or connection via the original Apple USB adapter.
Important: since USB 3.0 is normally up to 600 MB / s, my measured transfer speed should only have ended up at 50-70 MB / s due to the hard drives. Since they weren't SSD hard drives, they probably reached their limit for the measured values, while the Inateck Hub would probably have allowed even faster data transfers.
My conclusion on the USB-C hub HB4103C
The Inateck USB C hub leaves nothing to be desired in practical use. It is a passive USB hub that receives its power for the connected devices and its operation directly from the MacBook and thus does not require an external power supply. The hub works perfectly and is a good addition for Apple MacBook owners who still have to use "old" USB 3 hard drives or USB 3 sticks here and there. Of course, other USB devices can also be connected: printers, keyboards or mice work perfectly with the Inateck Hub. In any case, it has found its place in my MacBook bag as a constant companion.
I haven't tested the Ethernet adapter in the USB-C hub, but it supports speeds of up to 1 Gb / s and is therefore faster than most WiFi networks. For users who, for example, have to plug in a LAN cable at work to get into a network, the Ethernet adapter should be very practical. If you can do without it, you can buy the cheaper version of the Inateck Hub, which comes with 4 USB 3.0 ports.
As a test, I connected both 2,5 inch hard disks to the hub, but since it is a passive hub and the hard disks are neither energy-saving SSDs, the message came that one device was consuming too much power for the port. So you can only operate one hard drive directly on the hub if you don't have an external power supply for the hard drive - but this was to be expected.
Here again both versions of the hub linked on Amazon:
Jens has been running the blog since 2012. He appears as Sir Apfelot for his readers and helps them with problems of a technical nature. In his free time he drives electric unicycles, takes photos (preferably with his iPhone, of course), climbs around in the Hessian mountains or hikes with the family. His articles deal with Apple products, news from the world of drones or solutions for current bugs.