A while ago I already had a post about LED tea lights with timer in the blog, in which I presented the best models from Amazon. Now, shortly before Halloween, the time had come for me to buy a couple of flameless tea lights myself to illuminate the carved pumpkins of my children. At first I wanted to use real tea lights, but my kids were immediately worried about the house. They said our cats could knock over the pumpkins and set the house on fire. It's certainly not that easy with a tealight in a pumpkin, but since I didn't want to spoil the Halloween fun for the children, I bought a couple of LED tealights.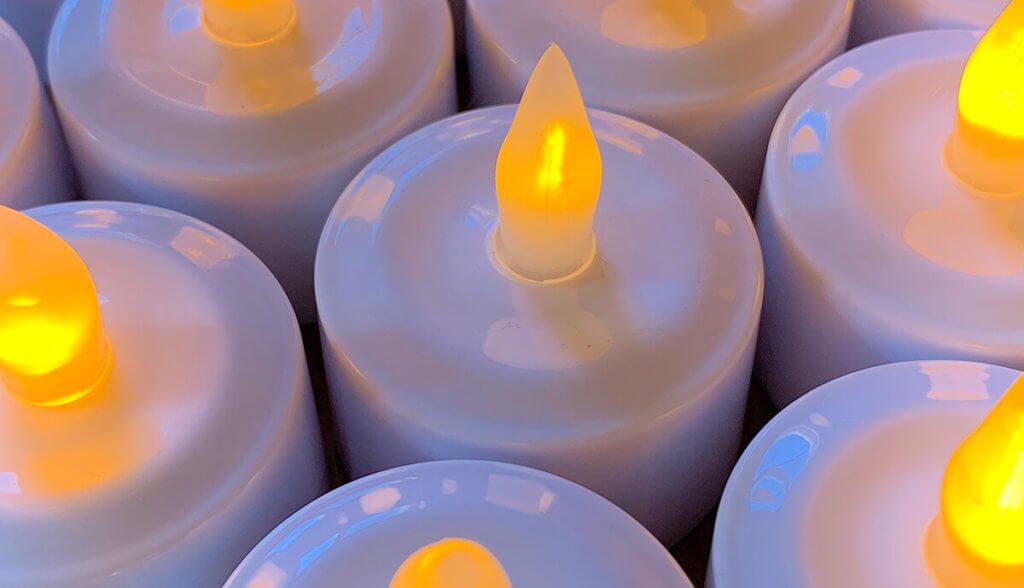 My selection criteria: rechargeable, with battery and flickering
There is plenty of choice when looking for tealights with LED lamps on Amazon. Unfortunately, almost everyone will be with these little ones CR2032 button cells operated and throw away a lot of hazardous waste. I've always been a friend of battery technology and try to get all mobile, electrical devices in a rechargeable form. That's why these battery-operated LED tea lights don't come into my house. So it was already clear that it should be rechargeable LED candles with a battery.
Another criterion for me was that the electric pseudo-candles also flicker when lit. This helps in practice that the candlelight looks as "natural" as possible.
Other features such as solar charging, timer functions, color changes or remote control were not important to me. My motto is: less is more. What you don't have can't break. ;-)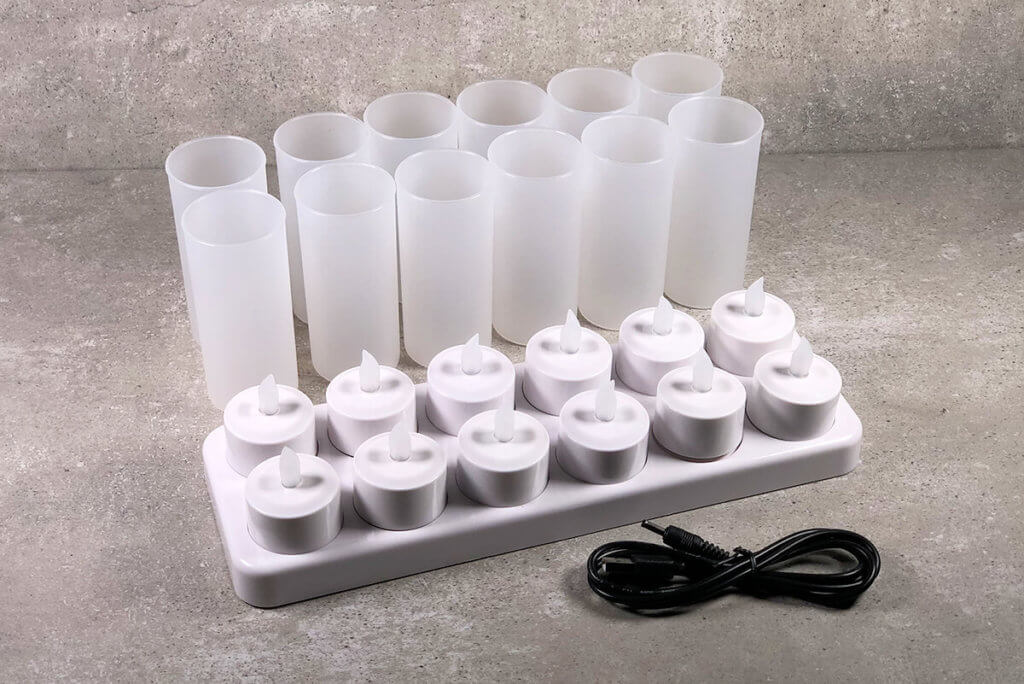 The best choice: Expower set of 12 LED tea lights
After some searching, I ended up with the bestseller from Amazon: A set from Expower / EXTSUD, which consists of 12 LED tea lights and which is supplied with a charging station. A USB power supply is not included, but I think everyone has one in the house by now. If not, there is Here is a recommended device from Anker. I would like to briefly list the technical data here:
Delivery:

12 tea lights
12 cup
Charging Station
USB charging cable

Material: ABS plastic
Size of the charging station: 28,5 cm (L) x 9,8 cm (W) x 2,5 (H)
Size of the tea lights: 4 cm (ø) x 4,6 cm (H)
Plastic mug: 4,5 cm (ø) x 10 cm (H)
Battery: 2,4V / 80 mAh (NiMH)
Burn time: at least 8 hours without loss of brightness
Charging time: 6 - 8 hours
Frequently asked questions about the LED tealight set
At Amazon, potential customers can ask questions about a product, which are then answered by people who have already bought the product. Since interesting aspects are often addressed, I have summarized the information from this area and incorporated my experiences:
How long is the lifespan of the LED candles? You can't change the battery, can you?
The battery cannot be replaced. However, NiMH batteries last a good 500 charging cycles and then gradually lose their capacity. That means, even after more than 500 charging cycles, the LEDs will still light up, but probably not that long.
How many hours do the candles light?
The LED tea lights shine at full strength for about 8 hours and then slowly decrease in luminosity.
Can I also charge other LED tea lights with the charging station?
No, most electric tea lights run on batteries and generally cannot be charged.
Are the tealights as big as normal tealights?
Yes, the size is the same. The LED tealights fit into normal lanterns or other candle holders for this size.
Is the flame of the tea lights flickering?
Yes, the flame flickers and gives the impression of a normal candle flame. No pattern or repetition can be seen in the flicker. That seems to be coincidental.
Can you let the candles burn on the charging station as permanent lighting?
Amazon says yes, but that's not correct. I switched on an almost empty tea light and plugged it into the charging station, but unfortunately the luminosity remained low. If the tea light had been powered, the glow should have gotten brighter. So no, that doesn't work.
Can you use the candles outside?
Generally, yes. They are not waterproof, but if you cover them with the mug provided and place a small stone or a cut cork under the tea light, even a damp surface will not harm the tea light.
Are these tea lights also available with a timer function?
No, unfortunately not. I have such tea lights with timer function in this post presented.
Can you buy the lights without the charging station?
That seems to have been asked by someone who uses the tea lights in a practice. The lights are always stolen from him by guests, so that he basically only needs new lights but no charging station. Unfortunately, this is not possible - only the complete set is available for purchase.
Can you tell from the red LED on the charging station whether the candles are full?
No, the red LED lights up immediately when the charging station is plugged in. Unfortunately there is no indicator for the charge level of the candles.
Can you put the candles on the edge of the bathtub?
Yes, that works in principle, but they must not be in moisture. They are not waterproof. If they fall into the water, they are probably broken. You don't have to worry about an electric shock because the voltage is far too low.
What color is the flame?
The flame is warm white or yellow. A customer estimated the color temperature to be 2800k. I measured 3600k, but only with a windy iPhone app. : D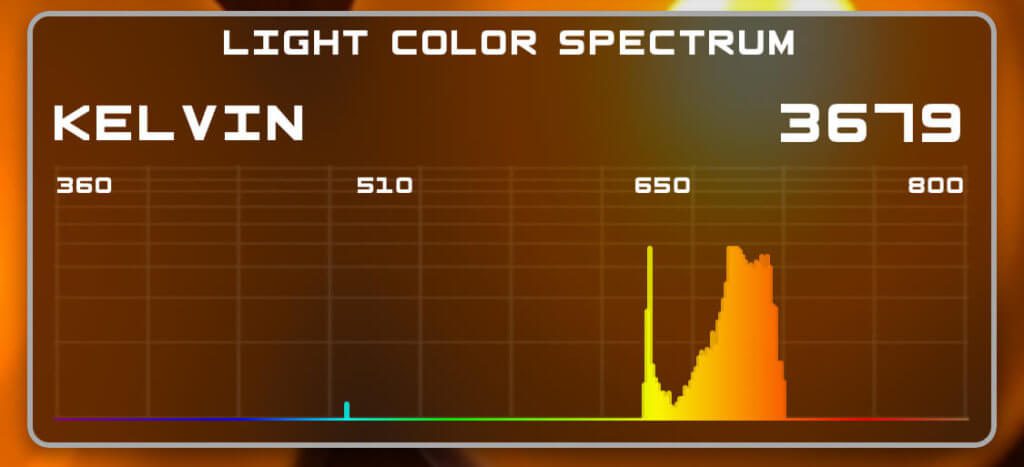 My practical experience
As already mentioned above, I bought the tea lights mainly for lighting the Halloween pumpkins. The set of 12 seemed much too big to me at the beginning because I couldn't use so many tea lights. In the meantime I have to say that you can get the little candles under without any problems. For example, I put two in each pumpkin, have one on the kitchen table and then a few in various windows. They don't all run continuously, but switching them on and off is very easy, so that you can quickly create a little candle romance in between, if you like.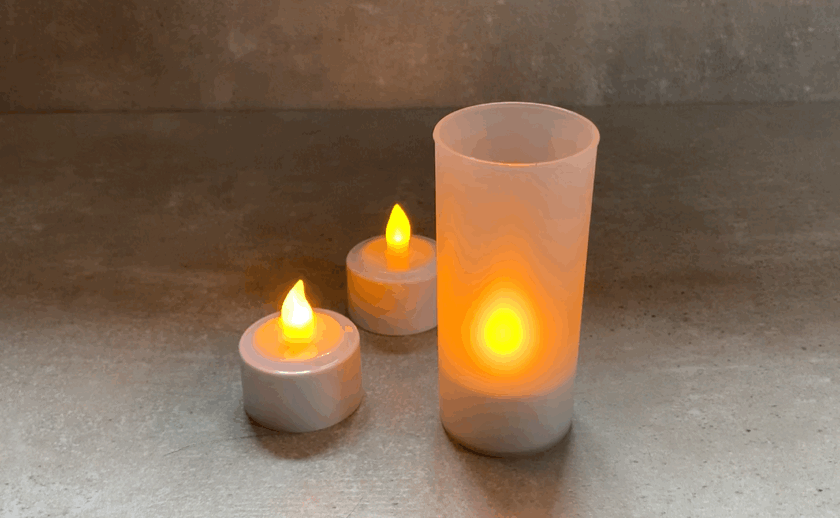 The light - pleasantly flickering and warm
The light is pleasantly warm. From my point of view it is significantly more yellow than a usual "warm white", but that is also closer to a candle flame. As mentioned, the candles flicker quite pleasantly. I recorded that in a small GIF, which I embed here. You can't see any pattern from the flickering - just like it is the case with real candles. In my GIF, however, the same 2-3 seconds of a film always run, so that something is obviously repeated here.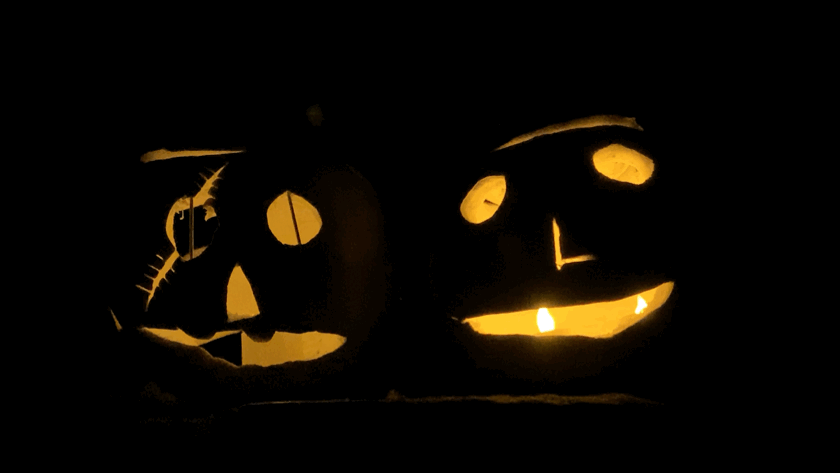 When the fully charged LED tea lights have shone for over 10 hours, the light gradually gets darker. But even after 16 hours the candle is still about half as bright as when fully charged. From my point of view, there is relatively little to complain about when it comes to the burn time.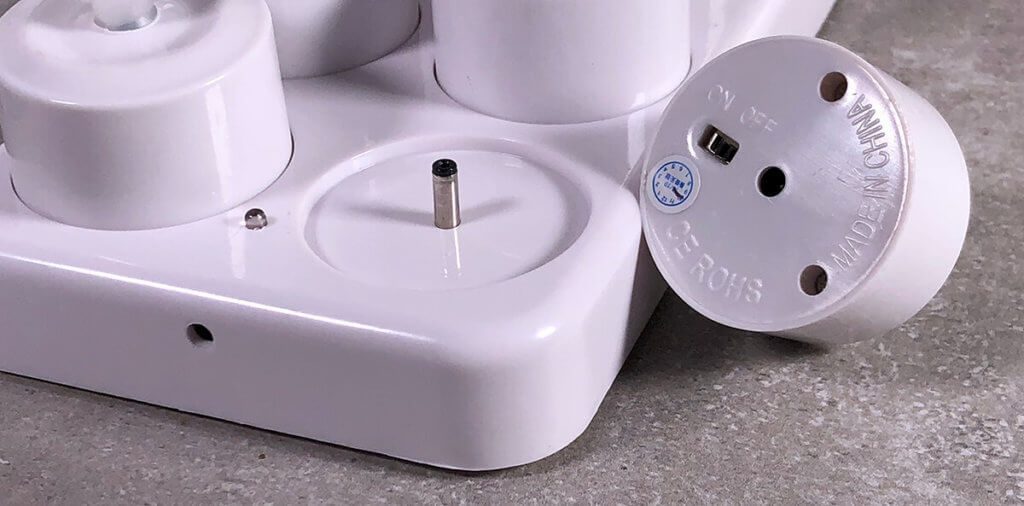 Charging with a USB plug
The battery in the tea lights is charged by placing the candle on the charging station. Twelve permanently mounted plugs look out of this, onto which the candles are plugged. The charging station is powered with a USB cable. This means you plug the cable with the USB plug into a standard USB power supply unit and the other end into the charging station. In this there is a red light-emitting diode, which only indicates whether the charging station is supplied with electricity. There is no display of the state of charge. But after a good 5-6 hours, even a completely empty LED candle is "filled" again, so that all candles can be recharged overnight.
I think it's a pity that you don't have a candle with the candles Micro-USB-Input installed. So you have to rely on the charging station or at least this special USB label to charge one of the tea lights. I looked to see if you can buy the cable separately from Amazon and I think it should be this one USB to 2,5 × 0,8mm barrel connector cable .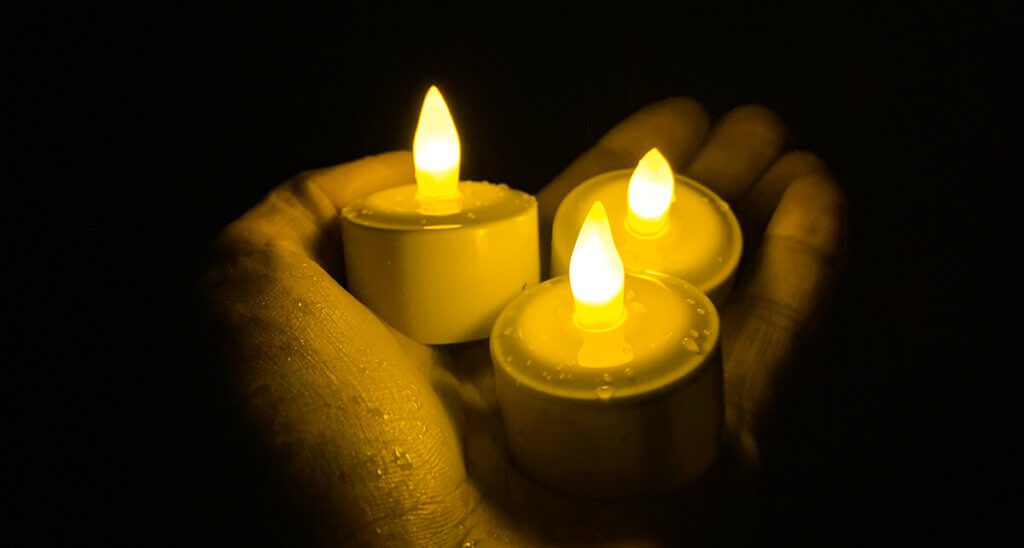 Standby power consumption of the charging station
Since the set does not come with a USB power supply, it is not possible to make a reliable statement here. There are economical USB power supplies that consume very little in standby and some that still need a few watts. I did my test with the iPhone power pack from Apple and came up with the following values: When all the tea lights are charged, the power pack with the charging station plugged in requires approx. 0,8 watts. At an electricity price of around 31 cents, you get just under 2,50 euros per year. But it is important that you choose an energy-efficient USB power supply, such as one from Apple (they are all very good) or this one from Anker, which was recognized for its efficiency.
Not waterproof, but waterproof
The description of the electric tea lights says that they should be kept away from water, but I still dared to try to take them with me into the rain. The tealights held in my hand and they were extensively watered. On the underside of the housing is the on-off switch and the socket for charging. I think this is the most sensitive area. For this reason, one should make sure that the lights are not in the wet.
This can be done easily by sticking the tea light upside down in one of the cups provided and then placing it on a cut cork, for example. So no moisture can get to the bottom of the tea light from below. In this way, the LED tea lights can also be used well in uncovered outdoor areas.
The rain and humidity outside didn't lead to a failure. I don't think you should leave them wet all the time, because then corrosion can form on the inside. However, they tolerate a short "trip" into the water when bathing (outside the tub!) or in a pumpkin without consequences if they can dry off afterwards.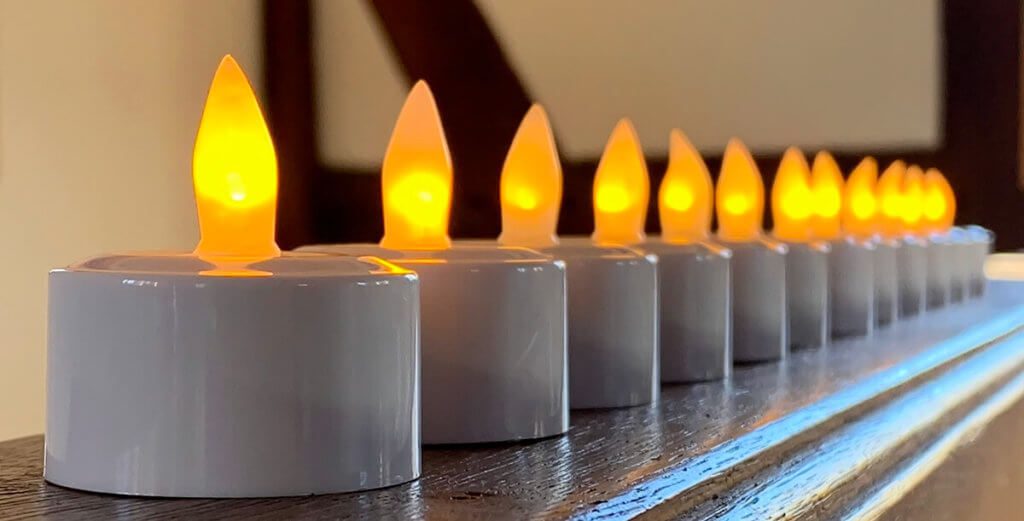 My conclusion: the charging station is unwieldy, but the practical test is great
From my point of view, the biggest "problem" with the tea light set is the space required for the charging station and the cup. I currently have the set on a windowsill, but it doesn't look very decorative. My wife said the optics wouldn't be a problem as it would look like a futuristic Apple device, but I'm not really convinced. ;-)
However, if you can find a place for the set where it can be permanently plugged in, then these LED tealights are a real asset to the home. They shine through the whole night, even if you put them in the pumpkin at 16 p.m. when it gets dark. Indoors, I only leave the flameless tealights on for a few hours at a time, so they "last" for several days without having to charge them.
I really like the color of the light. It's more yellow than warm white, but that's not a disadvantage when imitating a candlelight. If you place the candle in one of the frosted plastic cups, the light becomes a little "whiter" than before and really looks like the light of a candle in a lantern.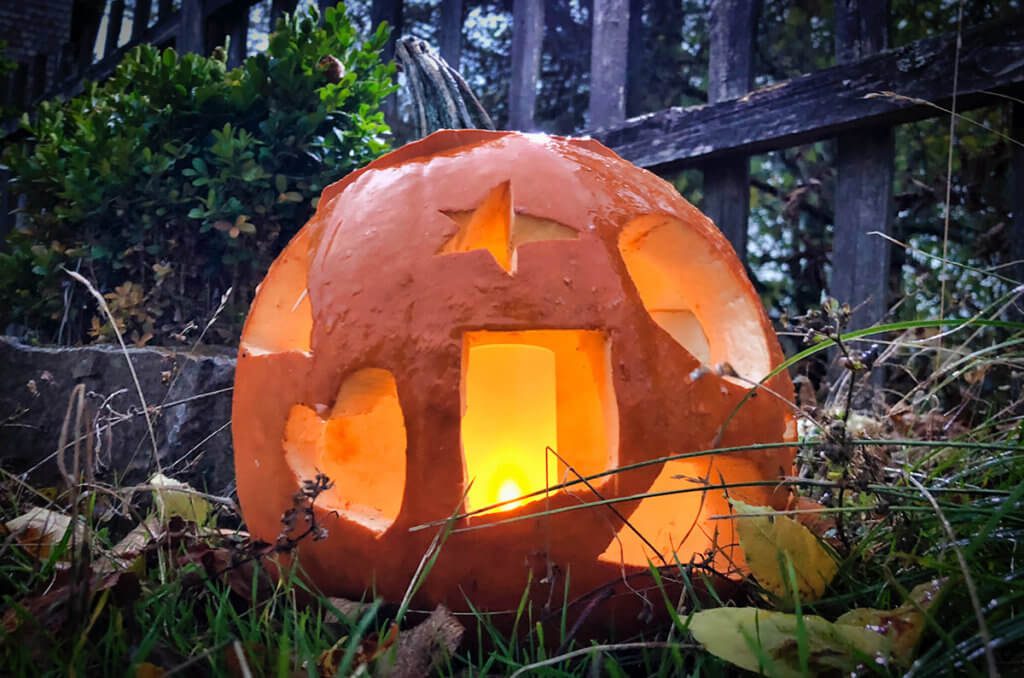 The range of applications for the electric tea lights is very large. At first you only think of the situations in which you would normally use a "normal" tealight, but thanks to the long luminosity and the non-existent fire hazard you can use them much more flexibly. For example, I'm thinking of:
Night light for children
Advent wreath candles
Use in unsupervised areas such as the waiting room of a doctor's office
Use in schools and kindergartens
Halloween pumpkin lighting
Candle replacement at the Lantern Festival (if you don't have one LED lantern stick uses)
As an outdoor floating candle (with a dry bag like this)
Use in tight spaces such as behind the TV or aquarium
As indirect party lighting
And I'm sure you can think of a lot more. You just have to have an LED tealight in your hand and understand that you can't start a fire with it. Then the ideas just gush out. : D
I still have one small point of criticism: the on/off switch on the underside is embedded and so tiny that you can hardly operate it without a fingernail. But since it works quite well even with short fingernails and a little practice, this is just "whining at a high level"! I wanted to point out though...
If you want to take a look at the LED tealight set from Expower or EXTSUD, you will find it here on amazon. Alternatively, you can also use this product box to get the set:
Jens has been running the blog since 2012. He appears as Sir Apfelot for his readers and helps them with problems of a technical nature. In his free time he drives electric unicycles, takes photos (preferably with his iPhone, of course), climbs around in the Hessian mountains or hikes with the family. His articles deal with Apple products, news from the world of drones or solutions for current bugs.
The page contains affiliate links / images: Amazon.de