With Apple Business Connect, the iPhone manufacturer has launched a new free service for companies that they can use to feed their information more individually into Apple maps. The tool is aimed at small businesses, but can also be used by large corporations. Businesses with over two dozen locations can use an enterprise-grade offering or use an API to let agencies manage their listings. To use Apple Business Connect, companies need an Apple ID, i.e. a user account with Apple. If one already exists, it can be used.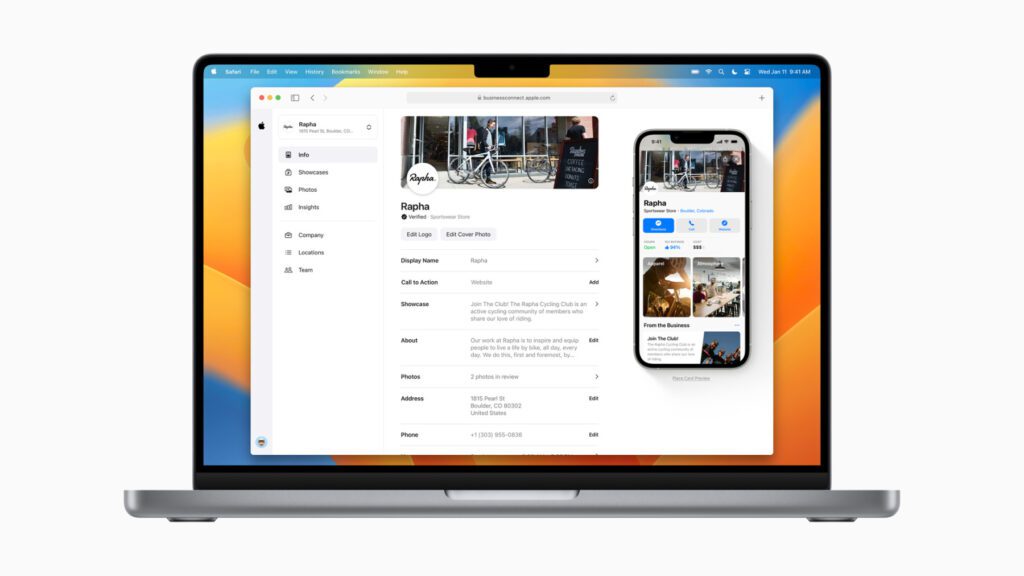 Apple introduces its "Business Connect" tool
Apple Business Connect is an online tool that businesses of all sizes can use for free to provide information, images, promotions and more about Apple Cards. A separate location map can be created for each location in order to address the individual characteristics of the shop, restaurant, office or other facility. In addition to the maps app, the information can also be called up in messages, wallet, Siri and other apps if integrated accordingly. In addition to the address and photos, e.g. B. Enter the phone number and website of the location.
"We built Business Connect to give Apple users around the world the most accurate information on dining, shopping, travel destinations and more' said Eddy Cue, Apple's senior vice president of services. "Apple Business Connect gives all business owners the tools they need to connect more directly with their customers and have more control over the way billions of people use their products and services every day see and use."
More information and official website of the offer
Company location maps can also be linked to partner services for even more convenient use by customers. In this way, campaigns can be integrated through which a room reservation can be made via Booking.com, a table reservation via OpenTable or an order of ready-made meals via appropriate delivery companies directly from the town map. The "Showcase" area will also be available for the time being only in the USA, allowing companies to draw attention to discounts, seasonal offers and other promotions. There is more on the subject in the Apple press release.
If you want to take a look at the new offer yourself, you can do so on this page: https://businessconnect.apple.com. There you will not only find the opportunity to register and get started right away. The "First Steps" button will guide you through the use of the platform. For companies with 25 locations there is an extra tour, which can be taken below with another "First Steps" button. If the company's information is to be managed by third parties, then there is also an introduction for this. All in all, you will always be taken by the hand in order to be able to use the new Apple Business Connect offer in the best possible way.
After graduating from high school, Johannes completed an apprenticeship as a business assistant specializing in foreign languages. But then he decided to research and write, which resulted in his independence. For several years he has been working for Sir Apfelot, among others. His articles include product introductions, news, manuals, video games, consoles, and more. He follows Apple keynotes live via stream.