Whether it's the Tagesschau, Twitter, technology or finance magazines: At the moment you can hardly ignore the topics of "GameStop" and "Stock Exchange". In this post I try to explain the events that led to it in an understandable way. In general, the following can be said at the outset: small investors have organized themselves to manipulate a share price in such a way that hedge funds and large investors in particular who have bet on a falling price make losses. Because the stock market is no longer just about buying, waiting and selling. There are sophisticated business models that use company stocks as betting content. And that has now fallen on the feet of some investors.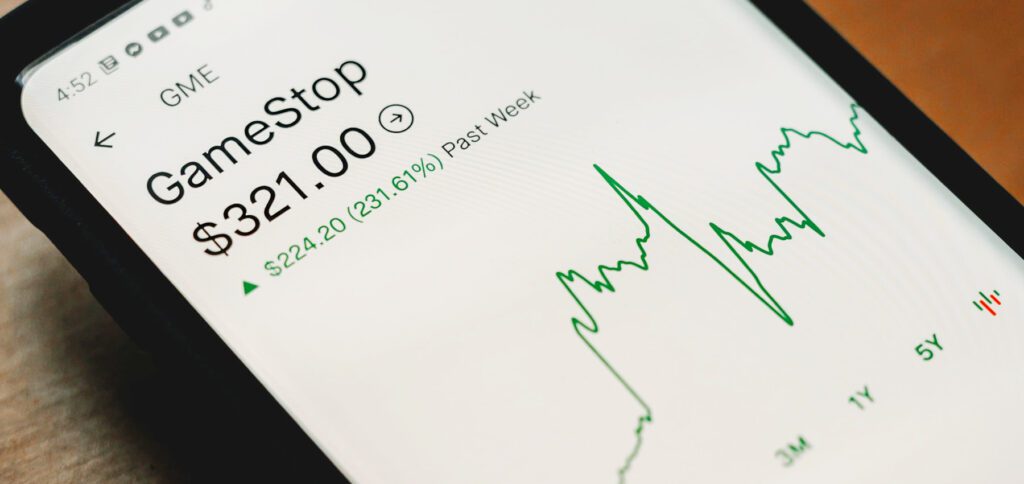 GameStop: hedge funds bet on falling prices (and lose)
In addition to the organization of smaller investors (see below), the focus of attention is primarily on the term "short sale". This involves hedge funds borrowing securities and selling them on the market. Later, when the price has fallen, they buy back the securities and give them to the lenders. This means that - if everything goes well - a sum is earned through the sale, which not only covers the repurchase and the rental fees, but also means a profit.
These short sales, which sometimes involve extremely large sums of money, are not about supporting companies or building a long-term portfolio. Rather, it is a game of chance. In the case of ailing companies, whose share price will tend to fall, the whole thing is relatively safe. Due to the Covid-19 pandemic, large investors were certain that they would later get the higher-selling shares back at a low price with regard to the short sales of the chain store "GameStop".
Reddit and Co: How the GameStop share experienced its boom
At the beginning of 2021, GameStop shares (also represented in Germany with shops in shopping arcades, etc.) were around 20 US dollars. After it became known in the subreddit r / WallStreetBets, among other things, that the falling prices were being used by hedge funds for short sales, the (meanwhile 7,8 million) users started trading. They bought the GameStop share in a coordinated manner and thus drove the price up. For the short-selling hedge funds, this meant that the stocks that were sold cheaply had to be repurchased extremely expensively.
Anja Kohl, the stock exchange correspondent for the Tagesschau on the Frankfurt Stock Exchange, emphasizes in the video this reportthat the whole thing worked because "the little ones" have come together to form a "swarm intelligence with a critical mass". The procedure works especially for troubled companies. However, there are also large ones, otherwise called "healthy" Companies to be designated are currently affected by the corona pandemic. So there is no guarantee of protection against internet activism for them per se.
Useful activism or umpteen crimes?
Now one can ask oneself whether the campaign has already paid off, because Sir Apfelot is now explaining what is meant by "short selling". Or whether it is simply illegal market manipulation by millennials who associate GameStop with beautiful childhood memories of video games and have therefore used it as an instrument to wipe out rich gamblers on the stock market. In the end, it's probably both. Because without this action, topics such as hedge funds, short sales and Co. would not have slipped into the center of public attention.
But what should the consequences be, except that law enforcement authorities could now get a lot to do around the world? Is there a need for market regulation to prevent gambling businesses? Is there a need for regulation that prevents controlled retail investor purchases (and thus intervenes in the market and only protects wholesalers)? Must there be more taxes on income from financial transactions so that they serve the common good? And what will happen to GameStop as a company in the end? So the whole action raises many questions that will occupy business and politics for a long time to come.
GameStop and the Stock Exchange: Related Links
With this article I do not claim to provide extensive information on the subject. Therefore I would like to show you a few starting points for your own research. You can already find one of them in the form of the Tagesschau article linked above. Furthermore, these pages can help you:
After graduating from high school, Johannes completed an apprenticeship as a business assistant specializing in foreign languages. But then he decided to research and write, which resulted in his independence. For several years he has been working for Sir Apfelot, among others. His articles include product introductions, news, manuals, video games, consoles, and more. He follows Apple keynotes live via stream.