It's Friday again; it's time for the Sir Apfelot newsreel again! Today I'll show you the Apple and tech news that caught my eye in calendar week 3 of 2020. Also included are a critical Facebook bug, a Samsung leak, a new type of glass, rumors about the iPhone 12, flashing taxis and a few gaming messages. Do you still have an exciting message in store? Then leave a comment with your discovery of the week!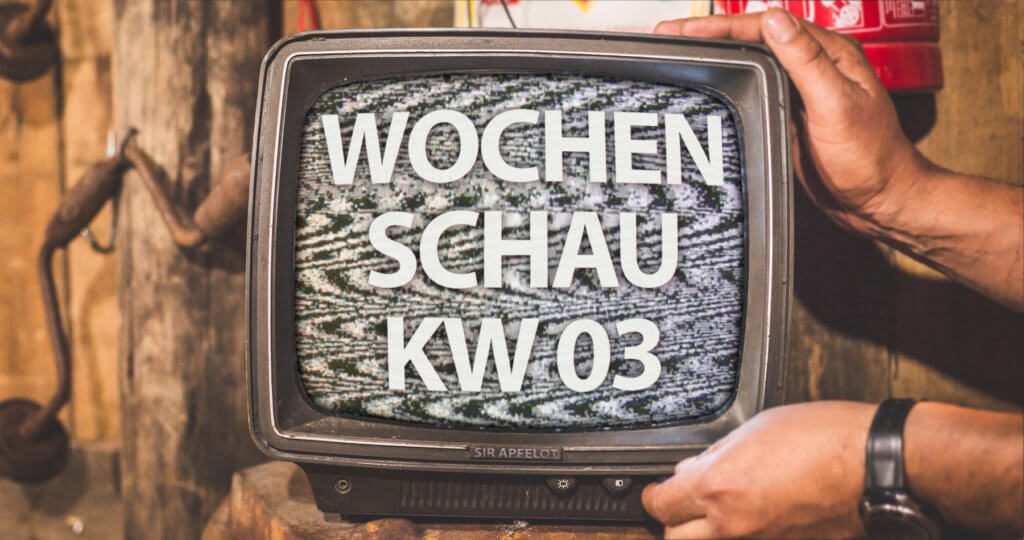 Critical bug: Admins of Facebook pages were exposed to the public
Like the trade magazine t3n (here ) with reference to Wired (here ) reports, Facebook briefly displayed the admins of like pages due to a bug. If you looked at the editing history of the contributions, it was shown who had made the edits. Especially with anti-government, journalistic and still prominent sites this is a "Found food for doxing professionals". The following were named as examples of people whose admins were visible: Banksy, Vladimir Putin, Hillary Clinton, Justin Trudeau, Greta Thunberg, Snoop Dogg. In the meantime, however, the error has been fixed.
Samsung Galaxy S20 + 5G - Bigger camera hill than the iPhone 11 Pro
Anyone who thought that the design of the main cameras on the iPhone 11 Pro (Max) was conspicuous has not yet seen the leaked photos of the "Samsung Galaxy S20 + 5G". A total of five camera sensors and an LED flash are located in a box on the back. This of course indicates that there will be interesting camera functions, zoom options and so on. But it also looks ... well, quite interesting. You will get a picture showing the front and back of the expected Samsung flagship for 2020 at this point at NotebookCheck.
Predicted glass shape simulated for the first time
After apps and devices, let's talk about components for a change. Like Scinexx berichtet, a new type of glass, which previously existed only in theory, was produced in a simulated manner. The special thing about this glass: it is made up of long, ring-shaped molecules. The more flexible the individual ring molecules are, the more they interlock and form a correspondingly rigid construct. The whole thing was predicted 25 years ago. The glass shape can only be transferred completely into practice with enormous effort, but it would, for example, make it possible to use metals as raw materials.
Apple replacement program for Smart Battery Cases for iPhone XS, XS Max and XR
There has recently been an exchange program for the "Smart Battery Case" from Apple. The models that were sold for the iPhone XS, iPhone XS Max and iPhone XR are affected. "Smart Battery Case models for other iPhone models do not qualify for this program", It says on the official support website to the program. The reason for this is, by the way, charging problems - either the battery case does not charge or does not charge completely; or it does not charge the iPhone or does not charge it properly. In any case, it does not serve its purpose.
iPhone 12 - New iPhones expected with up to 6 GB of RAM
I have yes to some of the new devices that we can expect at WWDC 2020 in June, for example already reported last year. But now there are already reports about rumors about the iPhone 12, which will be presented in September this year. There should be a total of four 5G-compatible models that should have different sizes, cameras and RAM. According to MacRumors (here ) the following models of the iPhone 12 are expected:
6,7 inch model: 3 cameras, 3D sensor, 6GB RAM
6,1 inch model: 3 cameras, 3D sensor, 6GB RAM
6,1-inch model: 2 cameras, 4GB RAM
5,4-inch model: 2 cameras, 4GB RAM
Microsoft closes the Windows 10 vulnerability found by NSA
Not only was support for Windows 14.01.2020 discontinued this Tuesday, January 7th, 10, it was also announced this week that there was a security vulnerability under Windows XNUMX that had been uncovered by the NSA. For example the Handelsblatt schrieb to: "Microsoft has closed an explosive security hole in its Windows operating system, thanks to which malicious software could impersonate legitimate programs. The tip came from the US bugging service NSA, which discovered the vulnerability and reported it to the software company."- In addition to Windows 10, you should also update Windows 8.1 and Windows Server versions.
When the taxi sign flashes red
Not new, but I found a topic from the Kölner Stadt-Anzeiger all the more worth knowing this week. This pointed in one article point out that taxis have red LEDs on the "taxi" signs on their roofs. These serve as a silent alarm. So if the taxi driver is threatened, a button inside the car can be pressed to make the LEDs flash. If you now see the red flashing light as a passer-by, you should call the police. This is even more urgent when the loud alarm goes off. This must be enabled in taxis (the silent LED alarm is optional) and manifests itself in horn noises as well as headlight and indicator activities. Further details can be found in the linked article.
3 x gaming: index games, GTA IV on Steam and Hogwarts in Minecraft
I noticed three gaming news this week that I would like to briefly show you at this point. For one thing, some video games have not been on the index since the end of last / beginning of this year. "Dead Island", "Dead Island: Riptide" and "Painkiller: Hell & Damnation" ( ).
On the other hand, I read why GTA IV is no longer on Steam. The download of GTA 4 has been removed from Valve's game launcher because keys can no longer be created. This is due to the fact that these keys are dependent on the Games for Windows Live platform. To solve the problem, Steamworks would be an alternative ( ).
Finally, I found a reference to a detailed replica of Hogwarts in Minecraft. The magic school from the Harry Potter novels and films was extensively recreated in the block game. Like RebelGamer heißt, are "a few students" behind the project, which also includes puzzles, quests and so on. You can see it among other things on Youtube.
Jens has been running the blog since 2012. He appears as Sir Apfelot for his readers and helps them with problems of a technical nature. In his free time he drives electric unicycles, takes photos (preferably with his iPhone, of course), climbs around in the Hessian mountains or hikes with the family. His articles deal with Apple products, news from the world of drones or solutions for current bugs.