I just got a question from my reader Christina. Although she had in the great article on the Mojave problem posted, but I think the matter is interesting to other readers as well. Your question is this:
For me, the information from the calendar only appears sporadically. They still appear on the day I set it, but disappear as soon as the computer is in sleep mode or after restarting.
I am totally dependent on it, because I have all my appointments and I need it very urgently that the notices appear until I close them. What can I do?
At the moment, Christina is probably using "banners" as the type of notification for messages from the calendar. You can easily change this via System Settings> Notifications. If you are there in the settings of "Messages", select "Calendar" in the left program list and click on the "Notes" type on the right.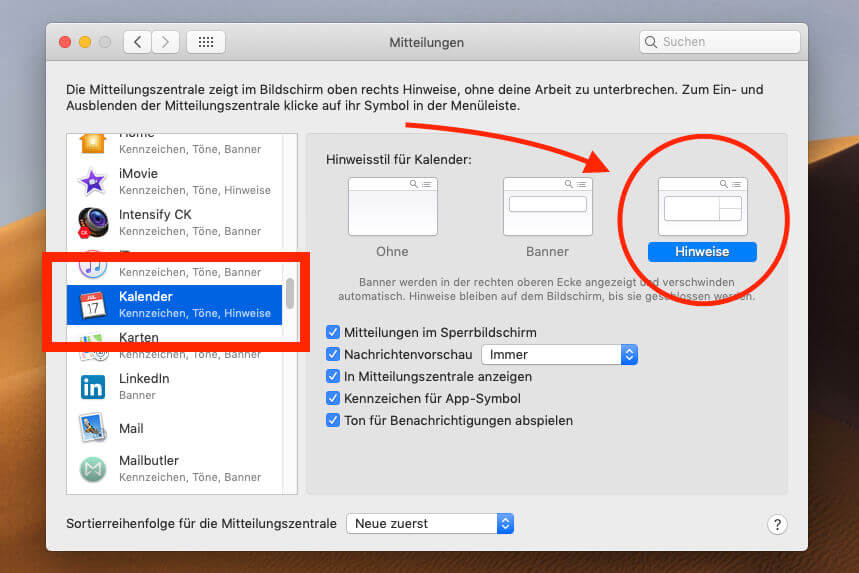 The notifications are the type of notification that doesn't go away on its own after a certain amount of time like banners do. You can only get rid of the hint if you either click on "Close" or on "Remind me".
If you select the "Remind me" button, the notification for the corresponding appointment pops up again after 15 minutes and you have to make a new decision or you simply leave it visible until you have completed the appointment. However, this requires a correspondingly large monitor, because the information windows are above all other windows and cover them. This can be a bit annoying when working on a small MacBook.
Practice test: what happens when the Mac goes to sleep?
I've just tested what happens when such a message appears on the desktop in the top right corner and I put the Mac to sleep. The message was still visible to me after waking up the Mac and has not disappeared by itself. So it would have to be the kind of hint that Christina asked for.
Jens has been running the blog since 2012. He appears as Sir Apfelot for his readers and helps them with problems of a technical nature. In his free time he drives electric unicycles, takes photos (preferably with his iPhone, of course), climbs around in the Hessian mountains or hikes with the family. His articles deal with Apple products, news from the world of drones or solutions for current bugs.