Today my reader Anselm asked me which stereo microphone I would recommend for making recordings with the iPad or iPhone. The clip-on microphone should be used to record music in a rehearsal room. Of course, all musicians should be recorded - in stereo, of course. ;-) A practical feature would be if you could connect the microphone directly to the iPad or iPhone via the Lightning connector.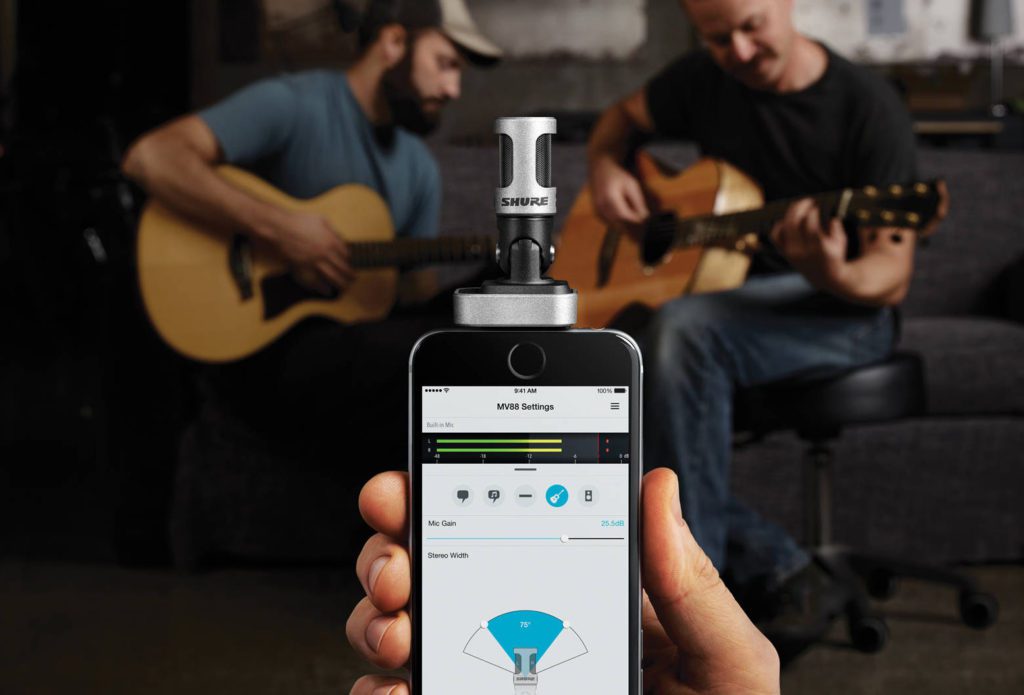 Why should the microphone be plugged in via Lightning and not simply via the jack? If you are looking for a microphone that will also work for the coming iPhone or iPad generations, you should better rely on Lightning, because even the current iPhone 7 or 7 Plus no longer has a 3,5 mm jack connector. For this reason, I have not expanded the selection to include clip-on microphones with a jack connection.
The micro selections: Zoom, Shure and Rode
I took a look at the current range of possible candidates and came across the following products:
The Rode iXY: unfortunately only with an old plug
Update: Contrary to my assumption, Rode does have a model of the iXY with a Lightning connector. It also has very good workmanship and, according to customer reviews, makes good recordings, but unfortunately the iOS app, which you have to use to use it, is so badly made that you can't recommend the microphone unfortunately. The impractical thing is that you can ONLY use the microphone in the Rode app - not in the video app or in the Voice memos or other iOS software. A reason for me not to put this Lightning stereo microphone on the recommendation list.
Here is my old comment on the 30-pin version of the Rode iXY
Perhaps we will first proceed according to the principle of exclusion: The Rode micro with the model name Rode iXY The quality is very good, but unfortunately the microphone only offers the old 30-pin connector. You could do with one 30-pin to Lightning adapter help out, but these adapters do not usually improve the audio quality of the recording. For this reason I would only recommend the Rode to people who plan to stick with their old iPhones, iPads or iPods. Everyone else should switch to a stereo microphone with a Lightning connector.
Zoom iQ7: good reputation, but mixed ratings
The manufacturer Zoom is a well-known name in the field of microphone producers. Unfortunately it will IQ7 zoom does not do justice to the good reputation of the company and so the ratings on Amazon are also quite mixed. In a nutshell, there are the following problems or disadvantages that the iQ7 has:
quite big and bulky
adjustable microphones seem very fragile
Due to the size of the microphone, a strong lever acts on the Lightning connector - you have to be very careful not to break it off
Audio quality is only average (frequency response not balanced)
Audio settings that one makes for the mic are not in others Apps In Stock
The Zoom iQ7 cannot really convince either. But we still have a candidate in comparison ...
Shure MV88: Top audio quality and very good handling
The Back MV88 seems to be the best choice among the Lightning microphones without much trouble. The recording quality of the digital stereo microphone was rated very well and is suitable for both music recordings and podcasts. In addition to the presets, which provide good default settings for speech, singing and the like, the microphone can also convince with intelligent software: while other microphones "forget" the settings with every new recording app, with the Shure you only set things once and they are available in all apps (according to a customer report).
Important note: The free app is required for the Shure microphone - you have to use it to use the microphone. As soon as you plug in the microphone, you will be sent to the app store to install the app.
Here in the overview the points that can convince with the Shure MV88:
handy size (significantly smaller than the zoom)
robust construction
works with all apps (recording level can also be adjusted when recording video)
meaningful presets
Using EQ, certain frequencies can be regulated down
high recording quality and balanced frequency response
good equipment: wind protection and transport bag included
mfi certified: compatibility with iOS devices is guaranteed
Conclusion: Shure MV88 is the best choice
In summary, it can be seen very clearly that with the Back MV88 obviously delivers the best stereo microphone for the iPhone or iPad. The good functions, the space-saving design and the perfect audio quality of the recordings are highly praised in the customer reviews. And while the Rode only focuses on instrumental music, the Shure can cover everything from interviews to vocals to instrumental music. The ready-made presets of the Shure app help to achieve very good results quickly. And the usability of the Shure in the iOS app of his choice is of course one of the most important reasons for this Lightning microphone.
Tip for recording - avoid background noises
Last but not least, a short practical tip: anyone who makes audio recordings should activate airplane mode on their iPhone or iPad. This prevents interference that would otherwise occur when searching for a mobile phone network, for example.
In some cases it is also helpful if the microphone can be placed a little further away from the iPad or iPhone. This can be done with a Lightning extension cable:
Unfortunately, the extension cable has mixed ratings as it does not work to charge the iPhone (no Mfi certification). However, it is suitable for extending the microphone because audio signals are transmitted perfectly.
Tip for the interview: Don't talk at once
And here are a few more tips for the situation in which you are recording an interview. If you carry out the interview with only one iPhone microphone, then all interviewees should always allow themselves to be spoken out. This simplifies post-production, i.e. cutting the interview (if necessary). If you assume that spontaneous questions, interjections or discussions will take place, then a microphone with its own recording device (iPhone, iPad, etc.) per person can be worthwhile. Because this is how the statements are saved on individual audio tracks. You will have to merge them in post production, but you can edit them more easily.
Can you record a podcast with the iPhone / iPad?
With the subject of interviews, the subject of podcasts comes up quickly nowadays. Can I record a podcast using an Apple mobile device? In theory, of course, this is possible; however, once you have a certain demand for your audio product, you will reach your limits. While the pure recording of conversations or a single narrating person is still easy to implement, cutting the recordings, adding music or sound effects, uploading to podcast platforms and the like on the iPhone and iPad can be more complicated than on the Apple, for example Mac, iMac, or Mac mini.
Update: Lightning stereo microphones in the bestseller list
In the following I have included an Amazon bestseller list for you, in which the current bestsellers from the field of Lightning stereo microphones for iPhone and iPad are displayed. This should serve you as an automatically updated orientation, as this post has been around for a few years now. If the individual suggestions here are out of date, you will find the latest products for your project in this list:
#
Preview
Product
Rating
Price
1
Shure MV88+ Video Kit with Digital Stereo Condenser Microphone for Apple and Android, Black

208,99 EUR

Buy it at Amazon
2
2 Pack iPhone Headphones 【Apple MFi Certified】 In-Ear Headphones with Lightning Connector...

11,99 EUR

10,19 EUR

Buy it at Amazon
3
2-Pack In-Ear Headphones for iPhone, HiFi Audio Stereo Earphones, [MFi-Certified] Earphones...

12,99 EUR

Buy it at Amazon
4
(2 Pack) iPhone In-Ear Headphones, [Apple MFi Certified] HiFi Stereo Lightning Headphones with...

10,99 EUR

Buy it at Amazon
5
Callstel compatible with iPhone microphone: mini wireless microphone set compatible with compatible with...

26,54 EUR

22,99 EUR

Buy it at Amazon
Update 2021: Experiences with the stereo microphone on the iPhone / iPad
A few years have passed since this article was published in 2016. Now it's 2021 and some iPad models have a USB-C port instead of Lightning. How are your experiences with microphones for voice or music recording on iPhone and iPad? Feel free to leave a comment, including the latest recommendations for microphones that can be used on iOS and iPadOS. Are there any Bluetooth alternatives that you can recommend? I look forward to your insights into the world of mobile audio recording with Apple devices;)
Jens has been running the blog since 2012. He appears as Sir Apfelot for his readers and helps them with problems of a technical nature. In his free time he drives electric unicycles, takes photos (preferably with his iPhone, of course), climbs around in the Hessian mountains or hikes with the family. His articles deal with Apple products, news from the world of drones or solutions for current bugs.
The page contains affiliate links / images: Amazon.de