Two weeks ago the rumors about a foldable or foldable iPhone patents awarded by Apple already condensed. Further developments and technologies have now been officially recognized by the Cupertino-based company; over 30 of them. Next to the foldable or otherwise flexible iPhoneSo that we can expect in the future, there are even more innovations. We will of course only find out whether these are already being used on the iPhone 8 (or iPhone 10, as it could also be called) Apple Keynote in September 2017.
Fold, fold and bend without breaking
As already indicated two weeks ago, there is the patent granted at the time for a vertically foldable iPhone and one that shows a horizontally foldable device. The latter patent has now also been attributed and granted to Apple. The patent number for this is 9504170. But whether Apple will use the technology described in this patent (the patent is for a Application from 2011 back) is questionable. There are now more modern solutions and more flexible technologies.
Technological innovations: interchangeable and dockable components
In addition to the foldable device itself or the concave display (see below), there are also efforts to improve the audio quality of Apple devices. In addition, patents have recently been approved that describe removable and add-on components. In this way, components could be removed from the device and reinserted. Even if it's just a card slot for using an SD card, that would be a step forward. There are also connectable devices that can read and evaluate sensor data from the iPhone. That would be important for health applications, navigation and the like.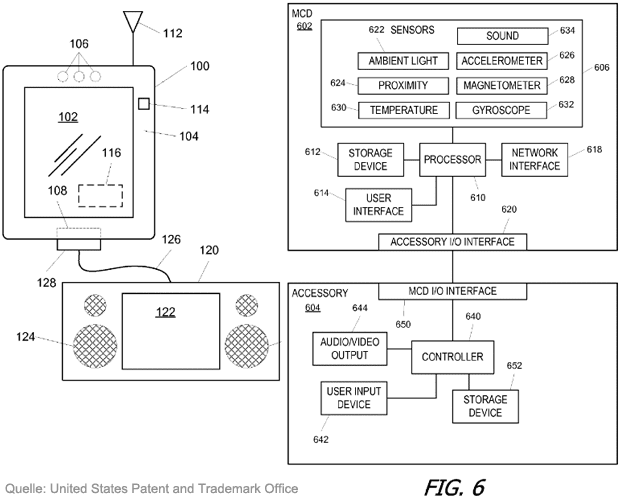 New features for Apple map services and route display
Also now approved as an official Apple patent are new functions for the map and navigation services from Apple. For example, arrows on the display should make the route to be run or to be driven easier to understand. The change between the top view and the oblique top view (3D display of the environment) for the map service has now been awarded to Apple. The two patents, which have the numbers 9500494 and 9500492 in the approved version, can also be found as applications under the numbers 20150247736 and 20140365114.
Open and "secret" Apple patents
There are still a lot of patents that Apple has filed in both the US and Europe that have not yet been approved. One of these patent applications bears the number 20120242588. In the description one can read that the document with corresponding sketches is about a "mobile device with concave display"Turns. This type of display is designed to reduce damage in the event of falls and to make the most of the phone's volume. But why is this patent application referred to as a "hidden" or "secret" Apple patent? Very easily; because Apple does not appear officially as the applicant in the paper, but only engineers working at Apple. However, it is clear from the sketches that this is about the iPhone:
Conclusion and outlook on new devices and systems
The coming generations of iPhones and the associated mobile operating systems iOS and watchOS will certainly bring some innovations. It remains to be seen when the patents, which have now officially been attributed to Apple, will also be implemented or whether they will even be used. However, the individual documents with their sketches offer significant differences or at least extensions of the current iPhone models. I'm curious; on upcoming patents and rumors, on the Keynote 2017 and on the new iPhones. You can find a full list of current Apple patents in this article, which was also the impetus for my research summarized here.
After graduating from high school, Johannes completed an apprenticeship as a business assistant specializing in foreign languages. But then he decided to research and write, which resulted in his independence. For several years he has been working for Sir Apfelot, among others. His articles include product introductions, news, manuals, video games, consoles, and more. He follows Apple keynotes live via stream.